Wallsend Brothers Competing In Arenacross
17 November 2013, 06:00 | Updated: 30 March 2016, 13:50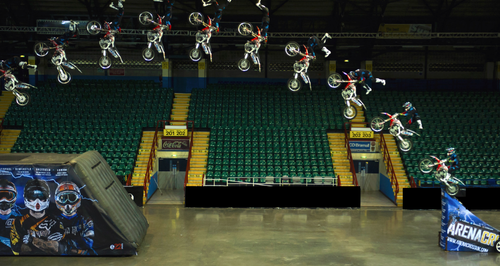 10 year old Buster Hart and his brother Joele are taking part in the Arenacross show at the Newcastle Arena in February.
The riders have showcased what they do ahead of the event.

The Newcastle Arena was set up with a race track, with riders from around the North East coming together to show off their skills (pictured).

The Arenacross tour is the UK's biggest action sports series and sees riders combine motocross with freestyle stunts.

10 year old Buster Hart and his older brother Joele, 15, spoke to Capital at the preview event.

Buster told us:
"My dad and my brother ride and got me involved in it.

The riding is just amazing. The bikes are amazing

If you become good then it's a dream come true really."

15 year old Joele said:
"I got told about Arenacross a couple of years ago so I tried it and liked it.

I struggled the first few times but I'm getting better at it now.

I get really nervous but the adrenaline is just so good.

It's awesome that I get to perform at the Newcastle Arena. It's the first time we've ever been here."

The show comes to the Newcastle Arena on February 9th 2014.