Road Closures For Durham Miners Gala
10 July 2015, 13:49 | Updated: 30 March 2016, 13:50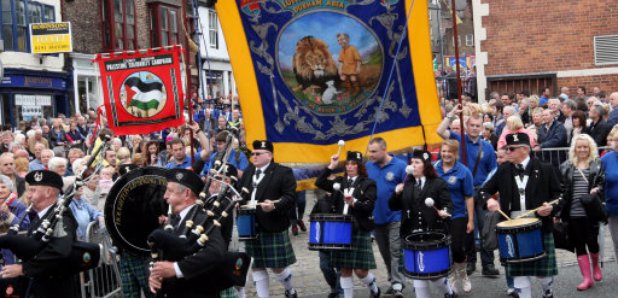 Drivers are being urged to keep the roads in Durham city clear for this year's Miners Gala - or face the risk of having their cars towed away.
This year's 'big meeting' takes place on Saturday, 11th July and as usual a number of streets in and around the city will be closed to traffic for much of the day.

No vehicles - not even pedal cycles - will be allowed on the following routes between 6.30am and 8pm:
* Framwellgate Bridge
* Market Place
* Saddler Street
* Owengate
* North and South Bailey
* Dun Cow Lane; Bow Lane
* Silver Street
* Elvet Bridge and New Elvet Bridge
* Territorial Lane
* Green Lane
* Elvet Waterside
* Court Lane
* Elvet Crescent
* Old Elvet
* New Elvet plus Pelaw Leazes to Baths Bridge.

Church Street, Hallgarth Street and Whinney Hill will also be closed to vehicles but some residential access only will be maintained when possible.

North Road, Flass Street and Sutton Street will be closed between 8am and 10am, and again between 3pm and 8pm.

Due to safety considerations, this year the road closures have been extended to include Claypath (between Prince Bishops Car Park and Providence Row) between 9am and 1pm.

An additional restriction sees parking banned from 6pm Friday, 10th July in New Elvet, Old Elvet, Prison Green and Green Lane.

These roads need to be kept clear of vehicles until 8pm on the Saturday.

This measure was brought in after a number of cars had to be towed away in previous years. Police found several owners had parked up before enjoying a night out in the city and then returned the next day fully expecting to pick up their vehicles.

Any vehicles remaining in the Elvet area after 6pm on Friday may be removed by the police under the contract vehicle recovery scheme. It will cost owners a recovery fee plus any storage charges to get their vehicles back.

The charges vary according a number of factors including the type of vehicle. More information can be found in the 'Information and Advice' pages of the police website, www.durham.police.uk under "Know the Law - Recovered Vehicles".