Protests At Byron In Newcastle Over Immigration Row
6 August 2016, 05:00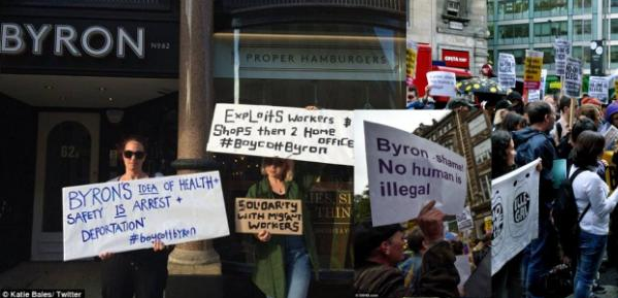 Protests are to take place outside Byron burger franchises. After immigration raids arrested those with false documentation.
The arrests have seen 35 nationals from Brazil, Nepal, Egypt and Albania being arrested and facing deportation.
On 4 July in London, at a dozen branches of the luxury burger chain Byron, workers were summoned by management to bogus early morning training meetings and then arrested by UK border agents. The workers are suspected of not having the right to work in the UK and of possessing fraudulent personal and right to work documentation.
Those protesting are angry over what they see as Britain's harsh treatment of migrant workers and police harassment of ethic minorities.
Byron have issued a statement saying,
"Byron was unaware that any of our workers were in possession of counterfeit documentation until the Home Office brought it to our attention" and that.

We carry out rigorous 'right to work' checks, but sophisticated counterfeit documentation was used in order to pass these checks".
The introduction of the Immigration Act 2016 has seen a wave of immigration raids across the country, with restaurants in particular targeted for 'illegal' workers.
The group organising the protests has said migrants are "less likely to receive state welfare" and that "this creates conditions for more intense exploitation and divides the working class".
The protests take place on Saturday afternoon in Newcastle, next to Grey's Monument.