Officers Praised As Jarrow Siege Ends Safely
9 January 2017, 07:19 | Updated: 9 January 2017, 07:26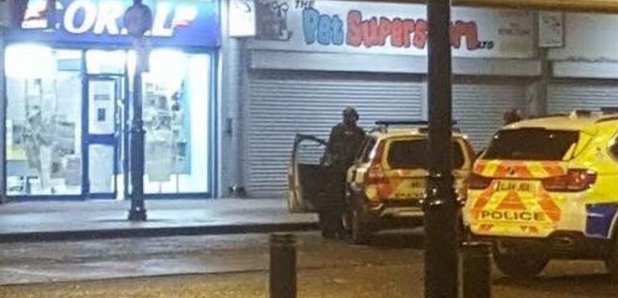 Armed officers have been praised after a hostage situation in Jarrow ended without any injuries.
Northumbria Police said they were called to the Coral bookmakers in Grange Road, Jarrow, on Sunday evening following a report of a man in possession of a firearm.
The force said the incident was brought to a close by officers using a "less lethal weapon'', which locals said was a Taser.
Four hostages are thought to have been taken by the man inside the shop. Local people said they watched as three were released but police continued to negotiate for the release of the fourth until the stand-off ended.
Social media users said the noise of shots was heard just before the end of the stand-off.
A force spokesman said: "At 8.44pm police negotiated the safe release of the fourth person from inside the premises then, at 8.53pm, the man in possession of the weapon was arrested by officers.
"A firearm has been seized by officers and the 39-year-old man will be taken into police custody.
"A police issue 'less lethal weapon' was discharged during the incident in order to bring this matter to safe conclusion - this was the 'shots' that people may have heard.
"Nobody has been injured during the incident.
"Enquiries are ongoing and we will try and get the area back to normal as possible.
"We would like to thank the public for their co-operation.''
Northumbria Police and Crime Commissioner Dame Vera Baird said on Twitter: "All hostages free as Jarrow siege ends.
"Told: he had loaded sawn-off, but arrested without police use of firearms. Well done & glad all safe.''