North East Public Sector Workers Head On Strike
10 July 2014, 11:29 | Updated: 30 March 2016, 13:50
Thousands of public sector workers from 7 different unions are on strike today, in a row with the govenrment over pay, pensions and jobs.
Firefighters, NHS staff, council workers and teachers are just some of the people who are taking part in this full day of strike action.

It means things like council-run markets, such as Newcastle's Grainger Market will be closed for the day.

Boyd O'Rorke who runs Buddies Balloons there has told Capital it means he'll lose a lot of money:
"I could be losing £400-£500 which doesn't help.

People aren't coming in to pick up orders, you can't make orders up, the orders I have got I'm having to make elsewhere.

It's just a bit of a nightmare for everyone really."

The TUC union will hold a march through Newcastle city centre from 11:30am this morning.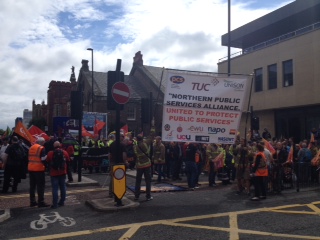 It starts at Northumberland Road and will finish outside the Laing art gallery around 12.30pm.

A poll for the Unite Union has found most members of the public back the right to strike and believe the government is unfairly targeting public sector workers.

A survey of over 1,000 adults found that three out of five believed council workers deserved an extra £1 an hour.

Around 56% of those questioned said it was unfair to cap the wages of public sector employees, while 70% believed workers had the right to strike over pay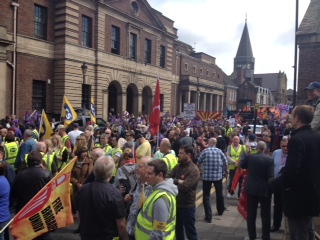 'We Don't Want To Be In This Position'

The strikes also mean more than 450 schools in the North East are closed or partially closed, as members of the National Union of Teachers walk out.

The NUT's dispute, which has been going on for more than two years, focuses on three issues - changes to pay, pensions and working conditions.

Last year, the union staged a series of regional strikes with the NASUWT teaching union. Between them they represent the vast majority of teachers.

Vince Allen from the NUT in the North East has told Capital they feel strike action is their only option:
"We don't want to be in this position either.

Parents understand the importance of having teachers who have got zeal, determination and capability staying in schools.

It's not in their best interest to see some of those best young teachers leaving the profession."

But a Department for Education spokeswoman said:
"There is no justification for further strikes. The unions asked for talks, we agreed to their request and talks are ongoing. Ministers have also met frequently with the unions and will continue to do so.

Further strike action will only disrupt parents' lives, hold back children's education and damage the reputation of the profession.''

Ahead of the walkout, Emergency Childcare said that it had seen a 70% rise in bookings as of lunchtime on Wednesday.

This is compared to bookings for an average Thursday.