Jeremy Corbyn Thanks Durham Miners Secretary
29 July 2016, 16:28 | Updated: 29 July 2016, 16:31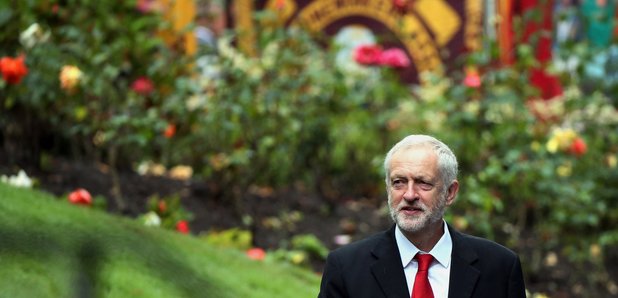 Mr Corbyn joined hundreds of mourners at the funeral of Dave Hopper, secretary of the Durham Miners' Association, who he said had helped win "billions'' of pounds of compensation for former pitmen.
The pair shared a platform only three weeks ago at the Durham Miners' Gala, one of Europe's biggest trade union events, which was attended by tens of thousands of visitors who watched bands and banners parade through the historic city centre.
Some of those banners were brought to the Miners' Hall in Durham for the humanist service attended by fellow trade unionists and MPs, ex-pitmen and socialists, family and friends.
Mr Hopper, an ex-miner, died aged 73 at his home in East Boldon, South Tyneside, only a week after the gala where he spoke out strongly in favour of Mr Corbyn retaining control of the party.
Mr Corbyn spoke at the funeral service, praising the association for carrying on the fight after the last pit closed.
He said:
"It would have been very easy at that point for Davey Hopper and many other brilliant, talented people to walk away and do something else but they didn't.''
The Labour leader urged mourners to make next year's gala even bigger than this year's success.
He added:
"I learned a lot from Davey Hopper - he gave me a lot of helpful advice, he recognised that, when you take on a struggle, you get a lot of pressure."
"When you get a lot of pressure, you can either retreat and run away, or you stand up."
"Davey Hopper never retreated, he never ran away.''