Heworth Roundabout Roadworks Expected To Cause Big Queues
9 October 2017, 06:00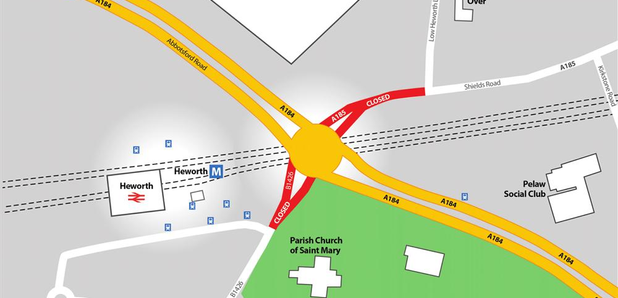 The early stages of major work to repair bridges under Gateshead's Heworth Roundabout kick off this week
Crash barriers along the Felling Bypass between White Mare Pool Roundabout and the Heworth Roundabout are being replaced.
The road will be reduced to a single lane in each direction from Tuesday October 10th.
The idea is it'll keep two-lanes of traffic open for longer when major work to replace the railway bridges which hold up Heworth Roundabout begins in 2018.
Gateshead Council say the work on Heworth Roundabout is essential - to stop major structural damage to the concrete supports which hold the roundabout above the railway line.
Over time, the waterproof membrane installed in 1959 has degraded and now has to be replace - which means the road surface has to be pulled up.
The work will also see the old, raised roundabout in the middle of the junction removed.
All this will take around six months - but the start date is yet to be confirmed.
Will It Mean Queues?
Yes - unfortunately so, and pretty severe ones at peak times, too. Traffic will be restricted to a single lane while the work is carried out, while the following roads will be closed:
A185 Shields Road between Heworth Roundabout and the Maiden Over public house
The link road from Sunderland Road to Heworth roundabout, except access to the church
The Kirkstone Road bridge, to prevent motorists from rat-running through a residential estate
If you live in Pelaw and want to get onto the Felling Bypass by car - you'll need to use B1306 Mill Road and A194 Leam Lane to join at Whitemare Pool.
What About Public Transport?

Metro and rail services will run as normal - but there are some changes to buses.
Buses will only be allowed to run along the A185 Shields Road in Pelaw through the road works, so services will still be running, but subject to delays. The bus lane on the Felling bypass between Lingey Lane and Heworth Metro will work as normal - so bus services around the Heworth area should be more-or-less unaffected.
Will Shields Road Close?

Hopefully not, but Gateshead Council haven't ruled it out.
They say: "
Although we'd like to, it may not be possible to keep Shields Road open,"
"Computer modelling suggests it may cause serious congestion across the region. If we allow traffic out of Shields Road it could interrupt traffic flows on the Felling Bypas, and back traffic up as far as the Sunderland border and well into Newcastle during peak times,"
"Closing Shields Road would simplify the construction work, meaning we could finish the work more quickly and more safely."
What Is The Advice For Drivers?
Avoid, basically.
Gateshead Council also advise you "alter your times of travel" or use public transport.
When Does All This Start?
The 'ancillary' works on the Felling Bypass begin on Tuesday October 10th.
But Gateshead Council are still waiting for the final go-ahead for the Heworth works which are expected to take much longer.
They're expecting they'll begin in the New Year.
Watch: Gateshead Councils Video on Heworth Roundabout Works