#HelpAmeliasHome
19 October 2015, 05:00 | Updated: 30 March 2016, 13:50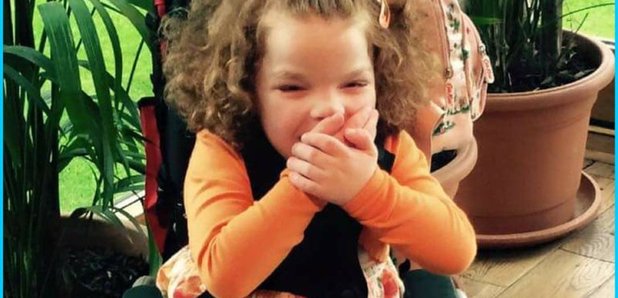 The parents of a poorly Northumberland girl are fighting a planning decision that means they can't adapt their home to suit her needs.
Amelia Scott was born in January 2009 to parents Neil and Donna, and older sister Fay.

Amelia has Jacobsen syndrome, a very rare condition affecting one in every hundred thousand, but Amelia also has an extra chromosome.

Her parents know of only one other boy, a little similar to her in America.

To date Amelia has had open heart surgery, fundoplication bowel surgery, three knee reconstructions, three feet operations, two operations to her eyes, lots of hospital stays, investigations and is physically and developmentally delayed. Amelia is sensitive to light and can't see outdoors without sun glasses, has a button in her tummy that she is fed through, as well as an ace in her bowel which she has flushes through to go to the toilet.

Amelia can't walk and stands for short periods of time. She wears splints all day every day, has scoliosis of the spine and growth hormone injections every day.




Despite all of this Amelia loves life and always has a smile on her face.

Neil and Donna made the difficult decision to move house and create a home for Amelia that could be adapted for her and the specialist equipment she needs including a hoist wet room and all level access.

Their plans were approved by Northumberland council, but Darras Hall Eastate Committee have now rejected their plans, meaning the building work can't go ahead.

A social media campaign, using the hashtag #HelpAmeliasHome has been started on Facebook and Twitter.

There's also a petition which has been signed by thousands of people

In a statement, Northumberland County Council tell Capital:
"Planning permission for the property was granted by Northumberland County Council on 4th September. The Council does not have any influence on decisions made by the Darras Hall Estate Committee. This is ultimately a civil matter between the property owner and the Darras Hall Estate Committee."