Great North Run Pacer Is Son Of First Ever Winner
5 September 2016, 15:56 | Updated: 5 September 2016, 15:59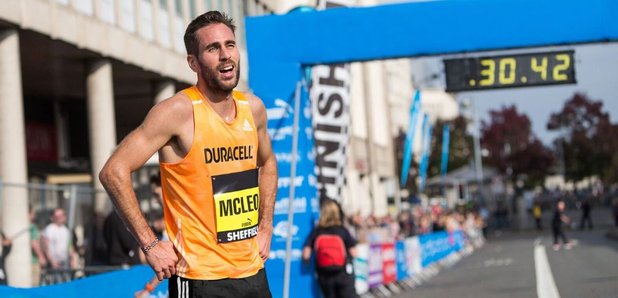 The Great North Run will feature 'Duracell Bunny pacers' for the first time this year - and the first over the finish line is the son of the first ever winner!
Ryan McLeod, who has competed for Team GB at the European and World Cross Country Championships and is the 2015 British Half Marathon Champion, will lead the Duracell Bunny pacers over the line 35 years after his father, Mike McLeod, won the first two races in 1981 and 82 respectively.
The Duracell pacemakers will feature for the first time ever when the runners take to the streets of Tyneside on Sunday 11th September.

They're designed to help runners of any ability pace their race safely and successfully.
Duracell has worked with the Great Run Series to recruit 50 experienced runners who will serve as pacemakers for the huge numbers of runners taking part.

Brendan Foster, former Olympic Bronze medallist and founder of the Great North Run said:
"The Great North Run is the world's biggest half marathon and has huge numbers of supporters on the route. In events like this it's easy to get a little over ambitious and set off too quickly.
The introduction of pacers by Duracell will be of real benefit to runners who are looking for a time and will be an excellent addition to the day"
Ryan McLeod said of being the first ever pacemaker at the race:
"It's a great honour to be the first ever pacemaker at the Great North Run. This race has a special place for my family.

My dad was the first ever winner in 1981, and I was delighted to win the Great North 10k last year.

I'm really looking forward to becoming a Duracell Bunny myself and helping other runners to keep going and hopefully achieve their own ambitions in the race."
The Great North Run this year will also feature the debut of the 'Duracell Power Zone' at Mile 10, one of the toughest stretches of the Great North Run

It's designed to give runners a boost just when they may be struggling to keep going and features music, cheering fans and a big screen displaying messages of support for runners and their image as they go by.

Duracell will also be helping spectators cheer on their friends and family using the Duracell #PowerBoards. These customisable boards will allow fans to write their own personalised messages for runners as they go past.