Four Jailed Over Gateshead Robbery
20 September 2013, 15:26 | Updated: 30 March 2016, 13:50
Four men have been sentenced to more than 12 years following a violent robbery in Gateshead in March this year.
Glenn Hooker, Jason Dodgin and Andrew Dial all pleaded guilty to conspiracy to commit robbery and Wayne Dial pleaded guilty to assisting an offender.

At just after midday on Wednesday, 27th March, a woman cash collector for Bob Rudd Leisure Ltd had just finished collecting money from fruit machines at the Bridal Path Pub in Whickham, Gateshead.

She was returning to her vehicle in the pub car park when she was attacked from behind by two hooded men and struck repeatedly around her head and shoulders.

Her attackers snatched her car keys and she was pushed to the ground before her work case was taken, along with all the takings and her company car.

Staff from the pub heard her screams and tried to intervene. One witness narrowly escaped being run down by the offenders and was dragged along while holding onto one of them through the car door.

Police then found the car with Wayne Dial a short distance away in Dunston.

He had been returning to the vehicle to help dispose of evidence left behind by Hooker and Dodgin.

Officers from the dog section and traffic followed him along a nearby railway line and arrested him on his way back towards his home address.

When officers attended Wayne Dial's address to carry out further enquires, they found Hooker hiding in the kitchen, together with the victim's case, some of the stolen cash and a cosh which had been used in the attack.

As a result of CCTV footage from the Bridal Path pub and the diligent staff at the premises, officers recovered footage of the robbery and were able to prove that Dodgin, Hooker and Dial had been watching the victim in the week before the robbery while in the pub posing as customers.

Further forensic and telecommunications evidence not only showed that Dodgin had acted as the 'hub' in planning and coordinating the robbery, but also that he had been involved in the pub's robbery and had been at Wayne Dial's home before police arrived there.

The evidence also showed that Andrew Dial had been posing as regular customer inside the pub at the time of the robbery and had alerted Dodgin with a phone call when the victim was leaving the premises.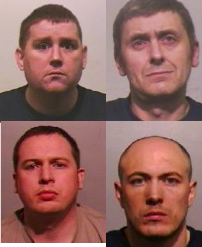 The Sentences

39 year old Glen Hooker (Pictured above: top left), of Audouins Row, Bensham, Gateshead, was sentenced to four-and-a-half years in prison.

42 year old Jason Dodgin (Pictured above: top right), of Dunstanburgh Close, Oxclose, Washington, was sentenced to four-and-a-half years in prison with a further one month to run concurrently for possession of Class A drugs.

32 year old Andrew Dial (Pictured above: bottom left), of Neill Drive, Sunniside, Gateshead, was sentenced to three years and three months with a further eight weeks to run concurrently for a suspended sence he had breached.

34 year old Wayne Dial (Pictured above: bottom right), of Meadow Lane, Dunston, Gateshead, was sentenced to nine months suspended for 12 months and 150 hours community service.