Family Of Young Teesside Road Victim Speak Out
26 September 2016, 13:06 | Updated: 26 September 2016, 13:08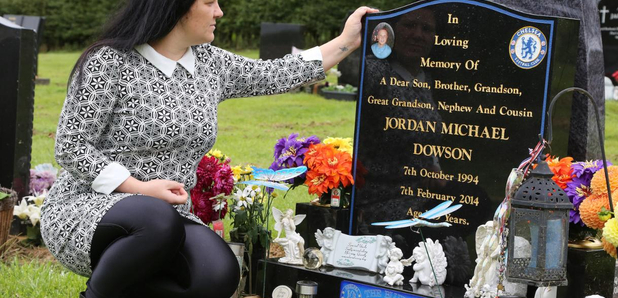 The family of a teenager killed in a car accident have backed a campaign to keep young drivers safe across the North East.
The latest statistics show that young people are four times more likely to be involved in a crash than other drivers, with the risk increasing when they have a car full of friends.
Whilst young drivers are not at fault for all collisions they are involved in, when they are responsible the main causes are failing to look properly, risk-taking, distraction, speeding, inexperience and driving while impaired by drink or drugs.
Between 2011 and 2015, almost a third of road accident injuries in the region related to collisions involving young drivers aged between 17 and 24.
This is despite young people accounting for only 7% of driving licence-holders.
Jordan Dowson, 19, from Guisborough, was one of those casualties.
He died in February 2014 while travelling as a backseat passenger on the A174 Brotton by-pass in east Cleveland. He had been wearing a seatbelt and no one was alleged to have been speeding.
Jordan's mum, Tanya Lofthouse, said:
"Every day is still very painful for us because Jordan should not have died that day. He was such a fun, happy character - he had his whole life ahead of him."
"The pain never goes away, but we must learn to live with it. Talking about it is difficult but we hope that by supporting the campaign we can show young people how road accidents can ruin and take lives."
"If it helps save one life, it will have been worth it."
Every day Tanya now visits Jordan's grave at Guisborough Cemetery and is still reliant on the medication she began taking after his death.
Jordan's nine brothers and sisters are also struggling to come to terms with his loss, as are his grandparents, who he stayed with and was very close to.
Tanya said:
"Christmas Day for us was always a huge family party, with Jordan at the centre of it all."
"Now every Christmas Day, we take a walk to the cemetery to visit Jordan."
In the past five years, 38 young drivers have been killed on the region's roads, 440 were seriously injured and almost 4,000 slightly injured.
However, a total of 64 young people have died in that time, including passengers and pedestrians - of which Jordan was one.
The more rural counties of County Durham and Northumberland have the highest young driver casualties.