Search For Motorbike In Newcastle City Centre Shooting Investigation
8 June 2015, 06:00 | Updated: 30 March 2016, 13:50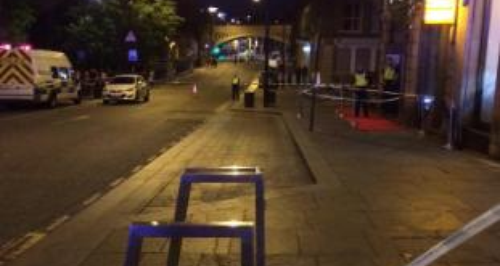 Police are looking for a silver motorbike they think was used in a shooting in Newcastle city centre.
The shooting happened at 10.30pm on Saturday evening (Saturday, June 6th) outside Tup Tup Palace in Saint Nicholas Street.

Police attended after a report that a member of door staff at the premises had been injured.

The injured man, aged 24, was taken to hospital for treatment. His condition is stable and not believed to be life-threatening.

A statement from Phoenix Security, the company the doorman was working for says:
"The Company is aware of an incident that has taken place on Saturday evening in Newcastle City Centre.

Our primary focus at this time is to ensure that the individuals involved in the incident receive the necessary support in order to facilitate a full and speedy recovery.

The Company is currently working with the Police to assist in their investigation and will be making no further comment at this time."

Superintendent Bruce Storey from Northumbria Police, said:
"We're carrying out enquiries to establish the circumstances of this incident and any particular motive, at the current time our enquiries so far lead us to believe there is not a risk to the wider members of the public. Understandably though people are concerned and it is worrying that this has happened, especially on a busy night in Newcastle city centre where there were many people enjoying a night out.

Extra patrols were quickly deployed to the city centre, both to deal with the incident and to offer reassurance to those who were in the city. An increased police presence will continue both during the day and night and I would encourage anyone who does have any concerns to speak to an officer on patrol.

We are doing everything we can to trace the motorbike and the person responsible for this shooting and would ask anyone with information to come forward and speak to us. If anyone saw a silver motorbike bike in the city centre around the time of this incident or saw it before or has seen it since then we want to hear from them."

Anyone with information is asked to contact Northumbria Police on 101 ext 69191 quoting reference 1410 070615 or Crimestoppers anonymously on 0800 555 111.
__________________________________________________________________________________

UPDATED 7th June, 1am

A doorman has been shot in the arm outside Tup Tup Palace in Newcastle city centre.

It happened at 10.30pm on Saturday night (6th June) in Saint Nicholas Street, with police saying a motorbike was spotted at the scene, moments before the shots were fired.

The street's been cordoned off, with a heavy police presence.

One eyewitness, Josie, who'd been on a night out in the nearby Empress bar told Capital:
"We were about to go to Tup Tup, had a VIP table sorted, and the Empress bouncer told us not to go out because it wasn't safe.

When we did go out eventually there was police everywhere, it was all cordoned off and we were kept on the right hand side near the cathedral.

It's worrying, especially with it being a shooting.

The first thing I said was 'who has a gun in Newcastle?'

It's pretty worrying that that sort of thing's going on. You would not expect that at all. Here's us worrying about how long the queue will take to get in but instead now we're not going to Tup Tup at all."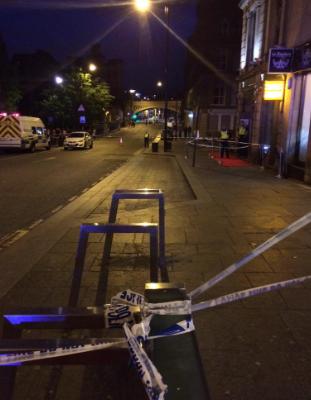 A group of girls spoke to Capital shortly after the shooting and said:
"You don't expect that kind of thing to happen, so it is quite worrying really.

You're out to have fun, and you expect the odd fight, but that's not good."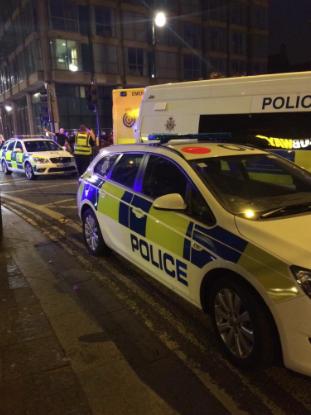 The shooting comes just hours after a teenager was stabbed in front of shoppers at Old Eldon Square in the city centre.

As the news spread, shocked people on a night out told Capital:
"It's a fun night out, but hearing that there's been a stabbing and a shooting makes you feel scared.

It surprises me these things have happened in Newcastle.

Newcastle usually feels so safe and friendly. I can't believe that something like this would happen."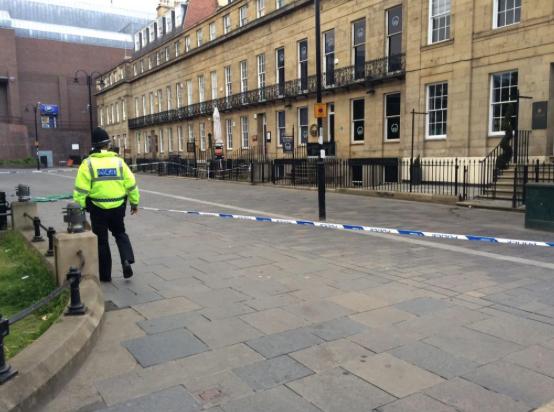 PICTURED ABOVE: The scene of a stabbing at Old Eldon Square, Newcastle, earlier that evening

A girl, who wanted to remain anonymous said:

"It's a busy Saturday night, that could have been a lot worse.

So many people come to this city for hen nights and stag dos, they could've been caught up in it."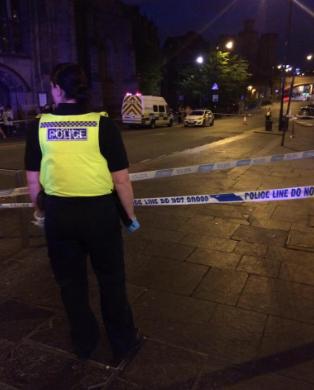 In a statement, Northumbria Police say:
"A firearm was discharged by a person travelling on a motorbike which then made off.

The man, aged 24, has been taken to hospital for treatment. The extent of his injuries are not known at this stage.
A cordon is in place and Saint Nicholas Street is closed to allow the incident to be dealt with."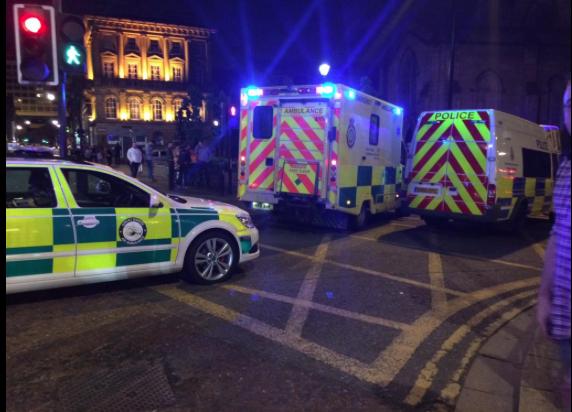 Superintendent Chris Sharman said:
"We know incidents like this cause concern and I would like to reassure the public that we are doing everything we can to trace the person responsible for this incident.
Extra officers are in the city centre to help keep disruption to a minimum and offer reassurance to those who are in the city centre.
If anyone has any information about this incident we would urge them to come forward and speak to us."
Anyone with information should contact Northumbria Police on 101 ext 69191 quoting reference 1410 060615 or Crimestoppers anonymously on 0800 555 111