Clevleand Police Firearms Amnesty
18 November 2014, 11:41 | Updated: 30 March 2016, 13:50
More than 30 guns and 1,500 rounds of ammunition have been handed in to Cleveland Police as part of a two week firearm amnesty.
During the amnesty, which ended at midnight on Sunday 16th November, those surrendering firearms will not face prosecution for the illegal possession and they can remain anonymous.

However, the history of each live weapon will be checked for evidence of its use in crimes.

Firearms legislation has changed recently and the police are asking people to surrender unlawfully held or unwanted guns and ammunition to help avoid them getting into the wrong hands.

Many firearms may be held in innocence and ignorance of their legality or may be overlooked or forgotten in people's homes. The amnesty gives holders the chance to dispose of the firearm or ammunition safely by taking it to a local police station and handing it in.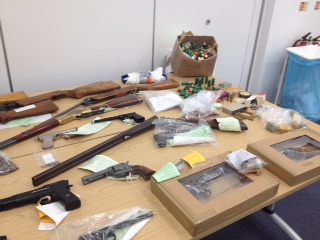 Surrendering unwanted, unlicensed weapons avoids the risk of them becoming involved in criminality and means that members of the community can dispose of firearms in a safe place.

Inspector Mark Pitt, from the Force's Firearms Department, said:
"Whilst it is encouraging to know that we have already had some firearms and ammunition handed over to us, we would continue to urge those that may have anything classed as a firearm or ammunition to hand them in over the next few days with the knowledge that they will not be prosecuted."

Weapons and ammunition can be surrendered at any police station, but anyone handing in a firearm during the amnesty is advised to check the opening times of the station. Collection can be arranged but will not be available in all circumstances. Anyone wanting advice on how best to transport the weapon responsibly from home to the police station can contact 101 before travelling.

Anyone with information regarding illegal firearms activity can also call police on 101 or Crimestoppers on 0800 555 111.