Chennai Six - Nick Dunn Arrives Home
7 December 2017, 12:00 | Updated: 7 December 2017, 17:30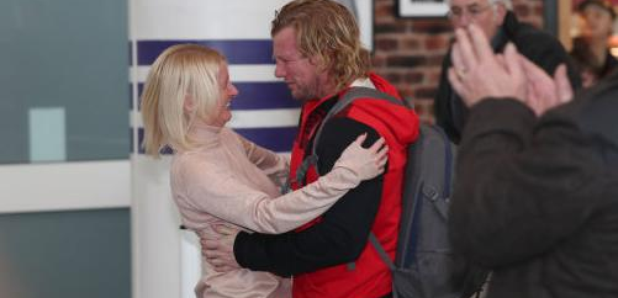 The latest member of the Chennai Six has touched down at Newcastle Airport, saying words could not describe how it felt after spending more than four years in an Indian jail.
Nick Dunn, from Ashington, wept as he embraced his family who had been waiting for him at Newcastle Airport.
The former soldier and five other British men had been guards on a ship to combat piracy in the Indian Ocean but were jailed in October 2013 after being charged with carrying unlicensed firearms and ammunition.
They won an appeal against their convictions last week after years of campaigning and were given permission to leave India.
Surrounded by supporters, he said he was going to have a hot bubble bath on Thursday evening and was looking forward to eating steak.
"Words can't describe how I feel, I'm on cloud nine and it's all down to my sister, she's made this possible," he said.
"I've been quite calm, I hadn't been anticipating being this calm, it wasn't until I came through the door there that it hit me.
"After four long years of not being able to see my mum, it's the best Christmas present I could ever wish for.
"I want to relax with my family and I think a lovely hot bubble bath is on the cards for tonight. It's something simple that we all take for granted but I will never take it for granted ever again.
"For everyone that has campaigned for me, I am overwhelmed. Everyone's support got me through this dark period of my life.
"Without them I don't know where I would be so I really want to thank the British public for their amazing support."