Travel warning ahead of United match
27 November 2018, 05:22 | Updated: 27 November 2018, 05:26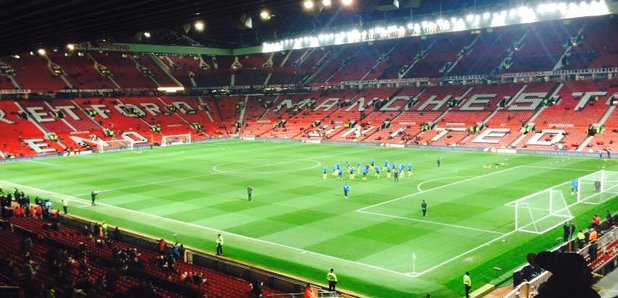 We're being asked to change our working hours or avoid the city centre altogether today, as Manchester faces another evening of potential traffic chaos later.
Around three thousand Young Boys fans are expected to walk from Exchange Square to Old Trafford to watch their team play United tonight.
That's on top of the major roadworks and problems on the railways.
Chief Superintendent Graeme Openshaw's in charge of getting everyone to and from the game safely:
"Tuesday will be a very busy evening in and around Manchester City Centre as we welcome thousands of Young Boys fans to the city.
"In addition to this, there will also be large crowds enjoying the Christmas Markets as well as rush hour traffic and major road works in and around Trafford Park and the city centre.
"Almost 3,000 Young Boys supporters are expected to attend the match and we know that many of these will want to walk together to Old Trafford. We are working closely with Manchester United Football Club, local councils and Transport for Greater Manchester to ensure we do everything possible to minimise disruption.
"The supporters will be escorted to the stadium at around 4.30pm from Shambles Square, during which time traffic will be temporarily stopped on several roads but we'll endeavour to keep traffic flowing wherever possible.
"Those travelling to Old Trafford to watch the game should allow plenty of time to contend with traffic and security checks at the stadium and we would ask commuters and motorists to plan their journeys in advance and take into account the large volume of people that will be in and around the area during this time.
"Officers will be on hand throughout the city and around the stadium on Tuesday evening to assist with any concerns or issues anyone may have before, during or after the match.
"We are used to managing major events across Greater Manchester and are confident that everyone can come together to enjoy the game safely."
Ryan Carter, Transport for Greater Manchester's Event Planning Lead, added: "Drivers travelling to and around Old Trafford and the surrounding areas in the build up to Manchester United's clash with BSC Young Boys are almost certainly going to see extended journey times.
"As fans make their way to the ground from the city centre, a number of road closures will be put in place and there will be a significant knock-on effect.
"In addition, with major road improvements ongoing in the Regent Road area, the impact on traffic in the build up to the game is expected to be greater.
"As such I'd advise all road users heading in that direction on 27 November to carefully consider their transport choices, use public transport and travelling outside of the evening peak if possible."
A spokesperson for Manchester United added: "We understand the impact that traffic congestion is having on our supporters. We have consulted with TfGM and GMP to get their support and advice in advance of the BSC Young Boys game and are communicating this directly to all ticket purchasers prior to the game."
For further travel advice, please visit tfgm.com/manunited-youngboys.