Starving dog found 'hours from death'
23 November 2018, 10:05 | Updated: 23 November 2018, 10:07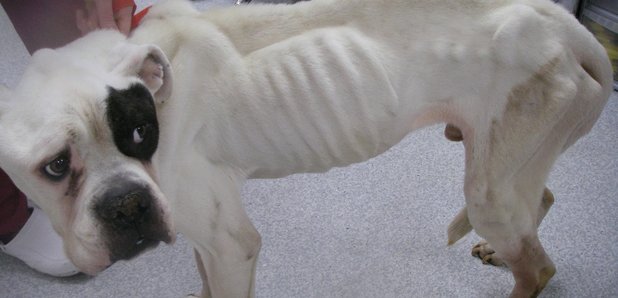 A dog described as a "walking skeleton" who was in such a poor state he was hours away from death was callously abandoned and tied to a post.
The American bulldog, called Oscar, was just half the weight he should have been when he was found by a member of the public tied to a post in Councillor Lane at its junction with Adshall Road, in Cheadle Hulme, Cheshire, at 8am on Monday (19).
The woman who came across him rushed him to the nearby Woodcroft Veterinary Centre and staff there alerted the RSPCA.
An investigation has now been launched to find who dumped Oscar and left him in such a horrific state. The seven-year-old dog was microchipped to a previous owner who had him a year ago but now the animal welfare charity are trying to trace who took him on more recently.
Inspector Nadine Pengilly, who is leading the investigation, said: "I have been an inspector for 16 years and this is one of the saddest cases I've seen, he was literally hours away from death.
"He was a walking skeleton, you could clearly see every bone in his body and he was half the weight he should have been. I am just so pleased to say he is now doing well and is expected to make a full recovery.
"Oscar was so weak when he was taken to the vets and was very cold and dehydrated but although he has been through so much suffering he is such a sweet and friendly dog. He was happily wagging his tail to staff while he was being treated.
"The vet said he weighed 22.7 kg but a dog of his size and breed should weigh around 45kg. He had long claws suggesting he hasn't been outside and urine marks on his paws and back end which indicated he was in a confined space so I believe he may have been locked in somewhere and am sure he will be from the local area.
"I feel sure someone must know who owned this dog and am appealing for them to come forward with that information. In the meantime we will be checking the local CCTV in the area."
Woodcroft Veterinary Group in Cheadle initially treated Oscar. He was put on a drip for 48 hours to rehydrate him and was fed small portions of food every half hour and responded well to treatment.
He is now in the care of the RSPCA's Greater Manchester Animal Hospital and it is hoped he will be put into a foster home next week where he will be cared for until he is fully recovered and able to be re-homed.
Jenny Walsh, clinical director at Woodcroft Vets, said: "We have never seen a dog this underweight and he was so cold we think he may have been left out overnight. We were worried he may develop hypothermia but were able to warm him up and once rehydrated and after giving him some food he was much brighter and a lovely dog.
"All the team have a soft spot for him and even some of our clients bought him some dog toys and one sent him a card saying 'Get Well Soon'."
Oscar's microchip revealed he was owned until last year by a woman in Stockport but she gave him away to to a man who lived nearby. Inspector Pengilly visited his address but he told her how had handed Oscar over to another man who lived in the area in June last year.
Anyone with information about who dumped the dog should call the RSPCA appeals line on 0300 123 8018.