Sick puppy left for dead in Sale
6 July 2018, 12:03 | Updated: 6 July 2018, 12:18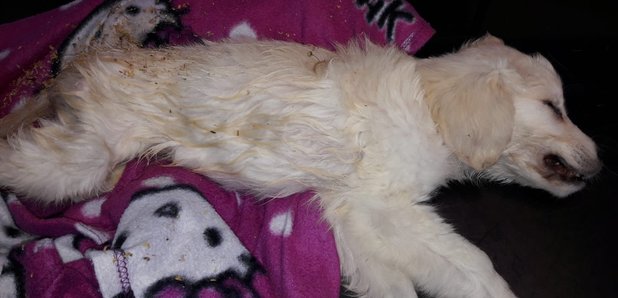 The RSPCA has launched an investigation after a gravely ill Golden Retriever puppy was discovered under a bush in Sale this week.
The upsetting discovery was made by a walker who was passing through a grassy area known as 'The Green Field' in Brooklands, Sale.
They rushed the puppy to a local vets as they could tell he was extremely sick and barely breathing, but sadly, he died before they could reach the veterinary practice.
Though to be just 12 weeks old, the puppy was a Golden Retriever type breed and cream in colour.
RSPCA animal welfare officer (AWO) Steve Wickham is now investigating the sad case. He said: "I'm appealing to anyone with information about where this poor puppy came from to come forward.
"To dump any animal is cruel, but to dump a dying puppy is heartless and completely shocking.
"We suspect the puppy was suffering with parvovirus, a highly contagious viral disease with a high mortality rate among untreated dogs - so there may be other puppies from the same litter at risk too. It can be prevented through regular vaccination, but I'm afraid we often see the disease in dogs from puppy farms, and I am concerned that this puppy may have been dumped by rogue breeders or by new owners who bought him, before realising he was infected with the deadly disease.
"I am urging anyone with any information to call us and speak with me. They can do so in complete confidence by calling our inspector's appeal line number on 0300 123 8018. Only with the help of the public giving us information can we investigate cruelty like this and try and prevent this sort of terrible thing happening again."
The RSPCA has long campaigned for laws to bring about the end of the cruel puppy trade with over 100,000 people signing the charity's petition for action to be taken by the UK Government, which resulted in an announcement that it will introduce a new licensing scheme for anyone breeding or selling more than three litters of puppies a year, and banning the sale of puppies younger than eight weeks old.
If the standards are high enough, and properly enforced, this should help those wanting to buy a puppy to distinguish between a reputable and a rogue breeder or seller.
The charity is continuing to work with the government to ensure the licensing conditions are set at a high standard and will lobby for a ban on the selling of puppies by someone other than the person who bred them.
The RSPCA offers lots of advice on how to avoid buying a puppy from a cruel puppy farm, and even offers a downloadable puppy contract for people to use when buying a puppy.
Anyone wishing to report cruelty or neglect to animals can call the RSPCA's emergency line on 0300 1234 999.