Regent Road contractor goes bust
14 March 2019, 12:55 | Updated: 14 March 2019, 12:57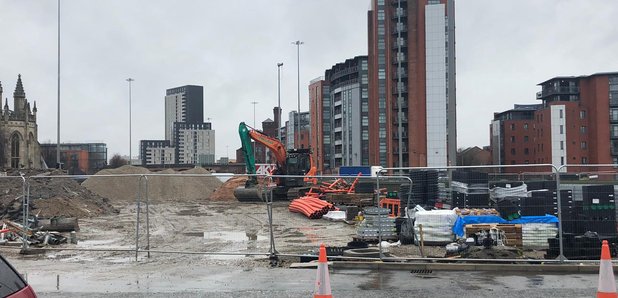 Work has halted on a major roadworks scheme in Manchester amid fears for the future of a construction firm which employs 700 workers.
Rush-hour motorists were left stranded on Wednesday morning amid chaos on the road network in Manchester after workers for south Wales based firm Dawnus, downed tools.
Subcontractors working on a massive inner-relief road scheme in the city left diggers and other plant machinery in the highways after reportedly not being paid.
The machinery was moved after police were called.
There has been no official confirmation whether the firm has gone into administration.
No one was answering the phone at the company's HQ in Swansea and accountancy and consulting firm Grant Thornton said a statement will be made but could not say when.
Dawnus runs construction projects across the UK and overseas including a £12m project in Swansea, a school in Welshpool, Powys, and flood risk management works in Cardiff and St Asaph.
A spokesperson for the Manchester-Salford Inner Relief Road scheme, a £15m project being carried out jointly by Manchester and Salford City Councils, said: "We have not received any official confirmation around the status of Dawnus but we are seeking urgent clarification.
"In the meantime, we are currently pursuing all other options to ensure the project can continue as quickly as possible."
On Wednesday, the Mayor of Greater Manchester, Andy Burnham, criticised employees for downing tools, prompting an online backlash.
The following day he appeared to backtrack in a tweet and agreed that if workers had not been paid the blame lies with Dawnus.
Carillion, the UK's second largest construction company, went into liquidation in January last year with £1.5bn in debt.
The collapse of the firm, which employed 20,000 in the UK, left dozens of projects unfinished including schools and hospitals.