North West neo-Nazis jailed
18 July 2018, 15:24 | Updated: 18 July 2018, 15:28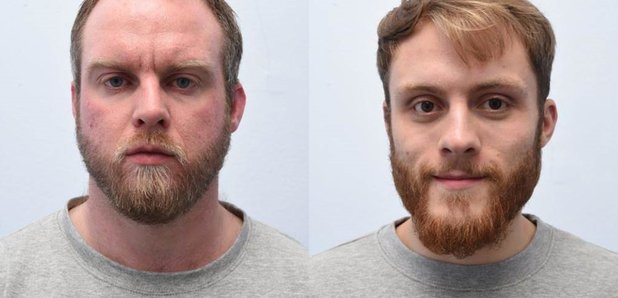 The leader of banned neo-Nazi group National Action has been jailed for eight years following an investigation into a foiled plot to murder Labour MP Rosie Cooper.
Christopher Lythgoe, 32, was accused of taking the far-right organisation underground after it was banned in December 2016 over its support for the killing of MP Jo Cox.
It had been claimed he encouraged a plan to kill Ms Cooper with a sword by telling Jack Renshaw not to "f*** it up" when they met at the Friar Penketh pub in Warrington.
A jury deliberated for 20 hours to find Lythgoe guilty of membership of National Action but clear him of involvement in the terror plot.
Matthew Hankinson, 24, of Newton-le-Willows, Merseyside, was also found guilty of being a prominent member of National Action and was jailed for six years.
Renshaw, 23, from Skelmersdale, Lancashire, had previously admitted preparing for an act of terrorism and threatening a police officer.
His plan was leaked to campaigners at Hope Not Hate by whistleblower Robbie Mullen, who attended the pub meeting in July last year.
It came just over a year after Labour MP Ms Cox was shot and stabbed in her Batley and Spen constituency by neo-Nazi Thomas Mair.
Renshaw has also been convicted of stirring up racial hatred in speeches in 2016, it can now be reported.
Sentencing, Mr Justice Jay described National Action as having a "truly evil and dystopian vision" of waging a race war.
Without Lythgoe's obsessive determination to keep it going, the group would have "withered and died on the vine", he said.
"Fortunately... the truly evil and dystopian vision I am describing could never have been achieved through the activities of National Action, a very small group operating at the very periphery of far-right wing extremism.
"The real risk to society inheres instead in the carrying out of isolated acts of terror inspired by the perverted ideology I have been describing."
Mr Justice Jay told Lythgoe: "You are a fully-fledged neo-Nazi complete with concomitant, deep-seated racism and anti-Semitism."
He added that Lythgoe "did nothing to stop or discourage" the plot to kill Ms Cooper.
Ms Cooper, who sat in court, said: "I think it's awful that any public servant - teacher, nurse, doctor, police, MP - should be targeted and threatened with violence simply because of the job they do.
"To that end, I'd like to thank Robbie Mullen, whose information saved my life.
"I'd also like to thank Lancashire and Merseyside Police and the counter-terrorism police who have supported me greatly, and who have kept me, my staff and the general public safe."
National Action is the first extreme right-wing group to be proscribed by the Government since the Second World War.
At its height, it had a membership of up to 100 young white men, drawn from universities.
Dressed in black skull masks, they would gather for flash demonstrations, waving banners and making Nazi salutes.
In December 2016, the group was banned by the then home secretary Amber Rudd over its support for the murder of Mrs Cox.
Lythgoe reacted to news of the ban by telling members they would "just shed one skin for another".
The prosecution alleged they continued to meet in pubs and train at a new mixed martial arts gym in Warrington.
Lythgoe's lawyer, Crispin Aylett QC, suggested Mr Mullen had implicated National Action in Renshaw's plot because he was "in the pocket of Hope Not Hate" and it was what they wanted to hear.
The Old Bailey jury acquitted Garron Helm, 24, of Seaforth, Merseyside, of being a member of National Action.
It failed to reach verdicts on Renshaw, Andrew Clarke, 33, and Michal Trubini, 35, from Warrington, who face the same charge.
Detective Superintendent Will Chatterton, head of investigations for counter-terrorism policing for the North West, said: "Today's result has enabled the spotlight to be shone on the sickening activities of the banned extreme right-wing organisation National Action.
"During the trial, one of those jailed today stood before the court and openly denied the Holocaust had taken place - an unimaginably horrific event that resulted in the murder of millions of Jews at the hands of the Nazi regime.
"Today's result is a body blow to extreme right-wing organisations such as National Action.
"It sends out a clear message that counter-terrorism officers and partner agencies will rigorously identify and investigate any violently extreme individual or group who seek to bring a reign of terror to our shores."