NHS70 Celebrations at Trafford General
5 July 2018, 13:06 | Updated: 5 July 2018, 13:08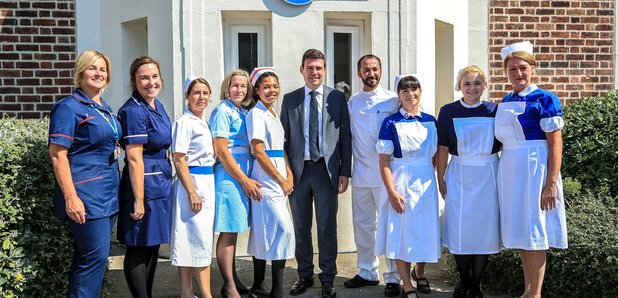 Britain's first NHS hospital has celebrated the 70th anniversary back where it all began with music, speeches - and the girl who helped serve Nye Bevan his breakfast on the day history was made.
Bevan, the minister for health in Labour's reforming post-war government, stayed at the home of the parents of June Rosen, then aged eight, the night before he launched the NHS at Trafford General Hospital near Manchester.
She helped her mother give him breakfast in bed, and later that day - July 5 1948 - her father, a local Labour councillor, drove him to Trafford, where he opened the first hospital in the world to offer free healthcare to all.
Mrs Rosen, who was at Trafford General on Thursday to mark the 70th anniversary, recalled her mother telling her not to get too close to their "visitor" as she had a cold and he had "important speeches to make".
She said: "I remember him sitting up in bed in striped pyjamas with a shock of grey hair and my mother putting the tray on his knee and then off he went. A little cameo of history.
"I was small, the age you don't take it in, but I knew it was something momentous and my parents had explained what it was all about."
Mrs Rosen, now 78, said Bevan inspired her own lifelong work in the NHS.
She trained as a physiotherapist and still works part-time as a deputy clinical lead therapist at cancer treatment hospital The Christie in Manchester.
She added: "I think the NHS is amazing. Life expectancy in 1948 was 66. Nobody could have envisaged then new hearts, new lungs, new hips, new knees, cancer treatment.
"Of course I'm very proud of it, how could you not be?
"It faces many difficulties but it faces so many positives as well."
For the occasion in Trafford, Greater Manchester mayor Andy Burnham was greeted by seven current nursing staff, each dressed in a uniform from each of the seven decades of the NHS.
Each told him an anecdote of nursing life: how in the 1940s nurses spent just eight weeks training - and had to ask the matron's permission to get married - and then had to leave the profession once they were married; and how in the 1950s wages were just £7 a month and hygiene was king, with nurses ordered to scrub up to the elbows for two minutes between each patient.
In the modern NHS nurses now have senior roles with advanced nurse practitioners and consultant nurses, many of whom have doctorates.
Mr Burnham said he gave thanks to every person who is working or has worked in the NHS for their public service, from nurses and doctors to cleaners, porters, secretaries and receptionists.
He added: "Now, Nye Bevan was a hard man to please. But if he were here today I think he would be pretty pleased with what the NHS has become, and we are proud too that Greater Manchester was the birthplace of the NHS.
"Nye Bevan said, about his NHS, it's a real piece of Christianity.
"I think what he meant by that was, it recognises that people are more important than profits, that care is more important than competition, that there is a better way of doing things as a society.
"He also said there will be an NHS as long as there are folk with the faith to fight for it. So I think we can tell you Nye, today, that flame is well and truly alive. There are millions of people behind it."
Mr Burnham later unveiled a blue plaque at the hospital to mark Bevan's visit, before a hospital choir sang Stevie Wonder's version of Happy Birthday as VIPs, staff and patients clapped along.