New Wigan bus station to open early
10 October 2018, 06:17 | Updated: 10 October 2018, 06:19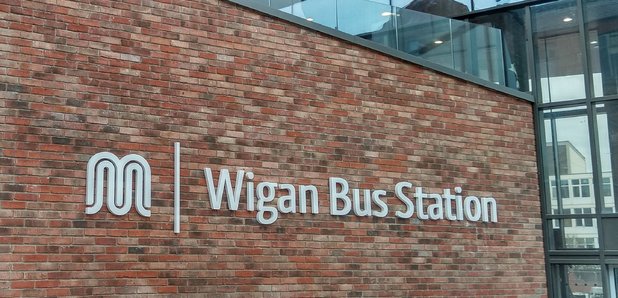 Transport leaders have announced that the new Wigan Bus Station will open more than two months ahead of schedule.
Following completion of the £15.7 million project on the site of the old bus station on Hallgate, all bus services will use the new station from 8am on Sunday 28 October.
Buses will no longer run from the temporary stops in place around the town centre from that date.
The striking new facility, delivered by Transport for Greater Manchester (TfGM) with contractor VINCI Construction UK, in partnership with Wigan Council, was originally planned to open at the end of 2018.
The new bus station continues TfGM's programme of major improvements to interchanges, bus stations and other transport infrastructure.
A fully enclosed concourse will have improved waiting and ticketing facilities in a lighter, brighter and safer environment, along with better passenger information – including live bus departure screens.
Pedestrian links to the town centre have also been improved and covered cycle parking is available.
The station has been designed to be accessible for all, with step-free access throughout. For blind and partially sighted customers, there is tactile paving, signage and bus stand identifiers, as well as colour contrasting wayfinding lines across the site.
In addition to standard accessible National Key Scheme toilets, and a baby changing room, there will be an enhanced 'Changing Places' toilet, which is specifically designed with extra space and equipment to meet the needs of people with significant physical disabilities and profound learning disabilities.
Throughout the design and construction of the bus station, TfGM has consulted with the Greater Manchester Disability Design Reference Group (DDRG) and the Wigan Access Committee, whose members have a wide range of disabilities, and have also considered customer feedback, resulting in a bus station which makes public transport more accessible and attractive for all.
The building has been designed to be environmentally friendly and includes roof-mounted solar panels which will provide around 15% of the bus station's electricity.
The roof also features Ethylene Tetrafluoroethylene (ETFE) skylights, a lightweight alternative to glass which allows natural light into the centre of the building, reducing the need for artificial lighting during the day. The same material was used for the interchange roofs at Bolton, Rochdale and Altrincham, as well as at the Eden Project in Cornwall.
Councillor Mark Aldred, Chair of the TfGM Committee, said: "We're very proud to be handing over to the people of Wigan a modern, high-quality facility.
"Everyone involved on the project has worked hard to make sure that construction has moved on quickly and we've had valuable support from local apprentices, who've played an important role in making sure project deadlines have been beaten."
Councillor David Molyneux, Leader of Wigan Council, commented: "There's always a great sense of achievement when a project is completed ahead of schedule and I really look forward to the opening of the new bus station.
"This project will play a key part in delivering an improved transport system for the borough that is fit for the decades ahead and is in line with our commitment to supporting the economic growth of Wigan town centre."
Mayor of Greater Manchester, Andy Burnham, said: "The opening of a new bus station marks an important milestone for Wigan. It will provide a more attractive gateway to the town centre and people will be able to wait for their bus in a comfortable, safe environment.
"Wigan is already an exciting place in which to live, work and socialise, with many great shops, markets, restaurants and bars. This new development will play an important role in supporting further regeneration and making travel easier so people can access everything Wigan has to offer."
Funding for the development has been supported by Central Government through the Greater Manchester Local Growth Deal Programme.