New trams for Greater Manchester
2 July 2018, 17:55 | Updated: 2 July 2018, 17:56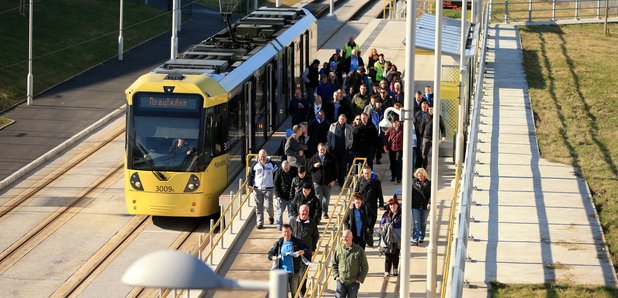 Transport for Greater Manchester (TfGM) has signed a £72m contract that will see 27 new Metrolink trams bolster the UK's largest tram network.
The contract – with manufacturer Bombardier Transportation UK and Kiepe Electric – will increase capacity on the network by 15%.
The new trams will provide 4,800 extra spaces and used to run more 'double' trams on the busiest lines. The first tram is expected to arrive in February 2020, with other units following on a monthly basis through to June 2021
Andy Burnham, Mayor of Greater Manchester, said: "Greater Manchester is growing. That means more jobs, more people and more demand on our public transport networks and these new trams will be a very welcome – and much needed – addition to the Metrolink fleet.
"By significantly enhancing capacity we will enable more people to leave their cars at home and use Metrolink to commute to their jobs, access essential services and explore our amazing city-region.
"That means less congestion on our roads, less pollution in our air and a better quality of life for everyone."
The new trams will be the same M5000 model as the existing fleet. They each have a capacity of 206 people and can reach a maximum speed of 50mph.
The new trams are being funded by the Government's Transforming Cities Fund, which aims to improve productivity and spread prosperity through investment in public and sustainable transport in England's largest city-regions.
They were first announced as part of the Congestion Deal, the city-region's approach for tackling congestion by improving public transport and providing a genuine alternative to driving.
Richard Hunter, Managing Director, Bombardier Transportation UK said: "We are delighted to have been selected by TfGM to provide a further fleet of Bombardier's FLEXITY M5000 light rail vehicles to add to the 120 cars already in operation. We are proud to support Andy Burnham's aim of encouraging people across the city-region to leave their cars at home."
Juergen Voelkner, Member of the Management Board, Kiepe Electric said: "TfGM has been our customer for many years. We and our partner Bombardier are very happy that TfGM has ordered further M5000 light rail vehicles."