Murder Suspect Could Still Be In The Area
2 July 2013, 11:55 | Updated: 30 March 2016, 13:50
Police hunting a murder suspect wanted in connection with the killing of a young mum in Greater Manchester believe he may still be in the local area.
Detectives have offered a £5,000 reward to anyone who may be helping Michael Cope to come forward.
Police have branded the 28-year-old a "dangerous man".
He is wanted for the "sustained and vicious" murder of Linzi Ashton, whose body was found at her home in Winton, Salford.
Miss Ashton, a 25 year old mum-of-two who previously complained to police that Cope had raped and attacked her, suffered injuries to her face and head, Greater Manchester Police (GMP) said.
Her body was discovered by a relative at her home in Westbourne Road shortly before 6pm on Saturday. Her two daughters, Daisy, two, and Destiny, seven, were not at the home at the time.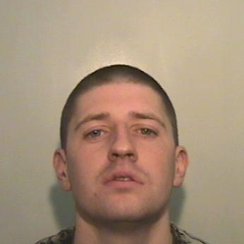 Detective Chief Superintendent Darren Shenton, head of GMP's serious crime division, said: "He has links to the local area and we believe he is most likely still somewhere in Salford. His family also know we are looking for him in connection with Linzi's murder.
"Because he is a murder suspect, we would advise the public not to approach him and report any sightings to us.
"I also want to send out a clear message that anyone found harbouring or assisting him can expect to land themselves in very deep trouble, if they do not get in touch with us."