Mourinho questions how much players care
2 October 2018, 05:34 | Updated: 2 October 2018, 05:36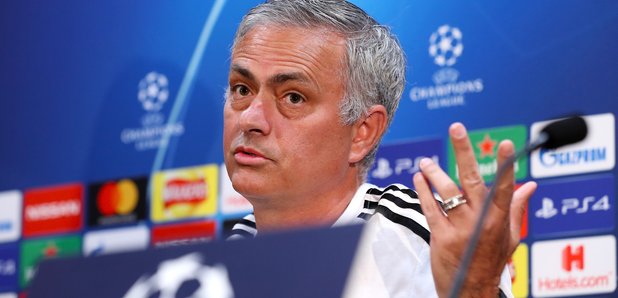 Jose Mourinho questioned how much some of his players care about Manchester United's poor start to the season as speculation continues about the under-fire manager's future.
Trouble has never been far away from Old Trafford in recent months, with pressure increasing by the match as they lurch from one problem to another.
United are in desperate need of a shot in the arm against Valencia in Tuesday's Champions League clash, given their draw against Wolves was compounded by a shock Carabao Cup exit to Derby and chastening loss to West Ham.
Saturday's 3-1 defeat in east London made this the 20-time champions' worst start to a league campaign since 1989-90, leading to increased talk about the manager's future and his ability to steer the ship back into calm waters.
Questions over his relationship with star turn Paul Pogba continue to linger, as do the links to former Real Madrid manager Zinedine Zidane, yet Mourinho does not believe his job is under threat ahead of Tuesday's Group H match.
"No, I don't think (my job is on the line)," the United boss said, having earlier made light of a report that he was fearing for his job after a call from the Frenchman.
Mourinho redirected the question from a Spanish reporter to the journalist that wrote the story, joking at a packed press conference that he had "put a bug on my telephone".
The smell of blood meant there was a heavier media presence than usual at Old Trafford, where the players will line up on Tuesday fresh from their manager questioning the attitude of some of them.
Mourinho said some of his group looked upset after the West Ham defeat, but others did not "look like they lost a game" - a point he later attempted to explain.
He said: "It's like, sometimes what it looks (like) is exactly the opposite, if you understand what I am saying.
"You can be laughing and be the saddest person in the world and you can be with a very sad face and you can be a fantastic actor and inside of you, you are very happy, so sometimes what you see is not what you get."
Pushed further on the squad's attitude, Mourinho added: "I think that some care more than others."
Mourinho refused to name names, but it was a striking comment at a time when his relationship with the group is under scrutiny more than ever before.
United greats Rio Ferdinand and Paul Scholes called into question the players' attitude at West Ham, but the Portuguese said he will continue to believe they are honest until someone goes on record admitting to anything else.
Mourinho brushed aside concerning statistics and perceptions in Spain, while also refusing to say whether he had spoken to executive vice-chairman Ed Woodward in the wake of Saturday's defeat.
"That's a private matter," Mourinho said. "I'm not asking you, 'Who did you speak to yesterday or this morning', or your last phone call.
"That's a private matter, I am not going to answer to you."
Mourinho will be without four players against Valencia.
"Apart from Marcos Rojo, now we have Ander Herrera, Ashley Young and Jesse Lingard out," he said.
"I prefer the doctor to speak, but they are not in (the right) conditions."