More city centre roadworks start next week
12 June 2019, 12:38 | Updated: 12 June 2019, 12:53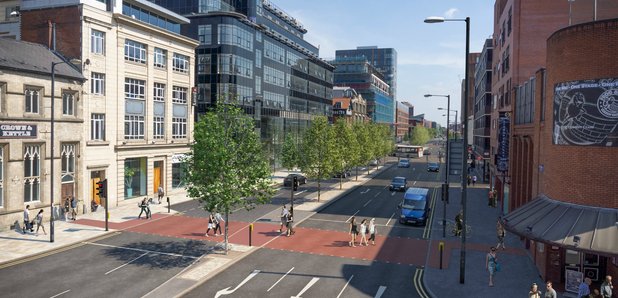 Preparatory work for a major scheme to transform Great Ancoats Street into a tree-lined boulevard with better facilities for people travelling on foot, on bike, or by car is set to begin next week.
The £9.1m scheme, with funding secured from the Greater Manchester Growth Deal, will radically improve the look, feel and safety of the busy route - which is a crucial link between the city centre and the thriving Ancoats area - through the planting of around seventy semi-mature trees, better crossings for pedestrians and people travelling on bikes, new pavements, a smoother surface for drivers and improved signage to help people find their way around.
Underground preparatory works are set to start from Oldham Road at the junction of Marshall Street / Cornell Street, along Great Ancoats Street to the Metrolink stop on Pollard Street. To ensure the lowest possible impact on traffic flow, these works on cabling and pipe installations for utilities and telecoms companies will start during the summer and be completed before the Christmas period.
As much work as possible will be done outside of peak travel times, with much of the work set to be carried out in the evenings. Noisier works will be subject to a 10:30pm curfew in consideration of local residents, but quieter works will continue until midnight where possible. Weekend working will also be carried out to help ensure that the programme is completed as efficiently as possible.
Once the advanced works are completed, the scheme will move on to the footway and carriageway construction phase in January 2020. The road will be resurfaced with new, modern materials, to produce a smoother drive for motorists and also reduce the noise produced by traffic by as much as 40 per cent.
The enhancement of the area is one of a range of upcoming projects dedicated to helping connectivity across the city, realising Manchester's potential and supporting economic growth by improving highways infrastructure. These include an £11.7m scheme to link Piccadilly and Victoria Stations, which is being planned as part of the Greater Manchester-wide cycling and walking 'Bee Network'.
Manchester City Council is currently delivering a five-year £100m Highways Improvement Programme to improve the standard of Manchester's highways, with work being carried out in every part of the city as part of the programme.
Executive Member for the Environment, Planning and Transport, Councillor Angeliki Stogia, said: "This scheme will completely transform Great Ancoats Street for the benefit of all road users, local residents and businesses alike.
"A greener, tree-lined route along Great Ancoats Street with enhanced pedestrian and cycle crossings will help to encourage more people to choose these active modes of travel, which will in turn help to improve local air quality. It's crucial that we continue to create new links between neighbourhoods which are safer, cleaner, more attractive and more natural for people travelling on foot or by bike.
"We know that it's vital to minimise disruption for motorists while the essential work is carried out and so we're starting during the quieter summer period, phasing the work to avoid the Christmas rush and will schedule evening and weekend working wherever possible.
"This major investment in our city centre is vital to ensure that Great Ancoats Street benefits from the same exciting economic developments as the Northern Quarter, Ancoats and New Islington areas which surround it."
For more information about the scheme, go to www.manchester.gov.uk/greatancoats.