Moor Fires Latest
2 July 2018, 10:13 | Updated: 2 July 2018, 10:17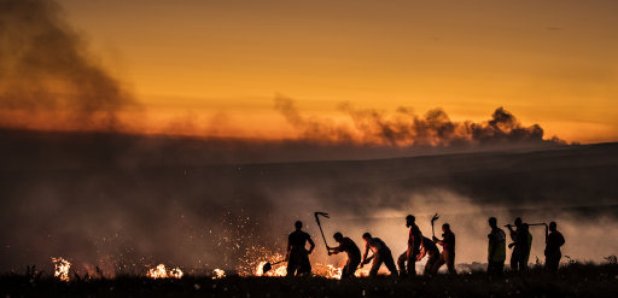 24 fire engines are at the scene the moorland fire at Winter Hill on the Greater Manchester/Lancashire border.
The firefighting operation resumed at dawn. Incident commander Ben Norman said "These are some of the most arduous conditions they could possibly work in - the extent of the incident means there is no respite from it. they go home marginally recover then are back again each and every single morning"
A major incident was declared on Saturday after two large-scale moorland fires merged due to increasing wind speed.
Helicopters were brought in as the operation sought to douse smouldering hot spots and soak nearby woodland to avoid fire taking hold.
Today the wind has increased again but crews are hoping to make some significant progress, they're talking to United Utilities about bringing in equipment to help them dig in areas of peat that are smouldering.
Paul Etches, head of prevention at GMFRS, warned the moorland fires were "not going away" and it would take "many more days of intense sweat and effort" to extinguish them.
"Our firefighters are tired but optimistic that we continue to make good progress," he said.
The fire near Stalybridge, Tameside, began on June 24 and reignited the following day before rapidly spreading.
GMFRS tweeted that it had been an "extraordinary weekend".
Over the weekend Lancashire Police said they'd had to deal with "reckless and dangerous" behaviour by members of the public which is hampering emergency efforts.
Some people, determined to get shots of the fire on their mobile phones, have blocked access roads for emergency vehicles by driving to the scene, while others have been flying drones over the moorland.
Its as many more people have been offering supplies of food and water to firefighters. Lancashire fire service say they now have enough but The Greater Manchester service are appealing for certain items for crews in Tameside, in particular: sun cream, insect repellent, baseball caps and pairs of socks both thick and thin. People are being asked to drop them off at Staylbridge community fire station.