Men jailed over Bolton street brawl
21 November 2018, 06:15 | Updated: 21 November 2018, 06:17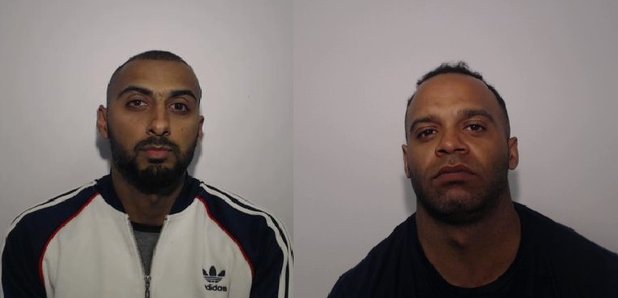 Two rival gang members have been jailed for their part in a large fight which saw a man get shot in Bolton.
34 year old Michael Berkley, of The Parklands, Radcliffe (pictured right), and 37 year old Ammar Akbar, of Castle Street, Bolton (pictured left) have both been jailed at Bolton Crown Court today, Tuesday 20 November 2018.
Akbar was sentenced to 26 months in prison after pleading guilty to affray and violent disorder. Berkley was sentenced to 12 months in prison after pleading guilty to violent disorder.
On Sunday 20 May 2018, police were called to Castle Street to reports that a large group of men armed with weapons were fighting with each other.
Witnesses to the fight have described seeing a man pull out a gun and shoot another who had been lying on the ground being kicked by numerous people.
Officers swiftly responded but the two opposing sides that had been involved had dispersed.
Later that night the man admitted himself to hospital with a gunshot wound to his leg. Thankfully he has since recovered from his injuries.
Further enquiries carried out by officers from GMP's Bolton CID confirmed that the fight was between two rival gangs, of which Michael Berkley and Ammar Akbar were on opposing sides.
Detectives investigating the case were able to identify Berkley as one of the perpetrators seen kicking the man who had been lying on the floor, while CCTV confirmed Akbar as being in the midst of the brawl throwing punches at people.
Detective Inspector Steph Parker, from GMP's Bolton borough, said: "At the time this incident caused serious worry among local residents given the brazen attitude of the men involved.
"They clearly did not care about who saw what happened or whether anybody got caught in the cross fire, their only concern was getting the better of the other side.
"We are committed to dismantling groups like the two that were involved and preventing incidents like this from happening on the streets of Bolton again.
"Today's sentencing is a positive step in that direction and I hope it will send a clear message to the criminal fraternity that we will do all we can to put a stop to what you are doing and bring you to justice."