Manchester Uni protect endangered rhinos
30 August 2018, 06:05 | Updated: 30 August 2018, 06:07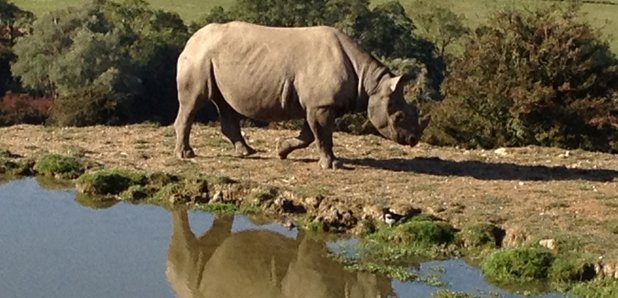 Chester Zoo and the University of Manchester have joined forces to deliver high-impact scientific research to ensure effective population management of some of the world's most endangered animals.
The collaboration will see more than £1.1 million invested across two major research areas. The first focuses on improving the future outlook for some of Africa's most endangered and emblematic mega herbivore species - such as highly threatened Eastern black rhinos and Grevy's zebra.
Conservation Fellow Dr Danielle Gilroy is currently studying population performances in Grevy's zebras in Kenya as part of this partnership.
More than 60% of mega-herbivores are facing extinction as a result of range collapse, degradation of habitat and persecution. The highest diversity of mega-herbivore is found in African savannahs, making them a crucial ecosystem to study.
Rhino and zebra populations have both become highly fragmented over the past decades and are under pressure from hunting and livestock competition. A joint research initiative will investigate how health varies across wild populations of these species– in order to reveal how they are affected by environmental change and human disturbance.
The second area will support research exploring new ways to effectively manage animal populations outside their natural range to maximise their conservation value and promote animal welfare. This will ensure 'safety net' populations are fit for reintroduction and continue to push the boundaries of world class animal reproduction and welfare in zoo breeding programmes.
The new agreement will look to build on these initial projects to establish similar ones across the world.
The partnership will also train conservationists of the future, by drawing on the University's research capabilities and on the zoo's expertise in wildlife conservation physiology.
To deliver the projects, over the next seven and a half years up to seven doctoral and three postdoctoral researchers, including two international doctoral students, will be placed into new conservation projects.
Some of the initial individual projects to be delivered immediately include:
research to identify why some wild eastern black rhino populations in Kenya fair better than others;
an in-depth report into how environmental change affects Grevy's zebra in Kenya and Cape mountain zebra in South Africa;
a study documenting the impact of resource extraction and land-use change on large mammals in Tanzanian National Parks;
the establishment of a new conservation physiology lab in Kenya.
Other studies focus on populations outside their natural range and will explore new ways to maximise reproductive success and deliver world class animal welfare including research into the management of bird song in the Javan sparrow, social behaviour in the endangered Sulawesi crested macaque and genetics in Eastern black rhinos.
Dr Simon Dowell, Science Director at Chester Zoo, said:
Species across Africa are threatened with extinction. Conservation is critical and urgent. We have worked with the University of Manchester on a number of projects over the years but this important new partnership takes our collaboration to a new level. It enables us to combine our expertise and make a major difference to preventing the extinction of species like rhinos and zebra.
Dr Sue Walker, Head of Applied Science at Chester Zoo, said:
The recent loss of Sudan, the northern white rhino, has highlighted the challenges of species conservation. One way to support this challenge and prevent extinction is to use science to unravel how species, both within and outside their natural range are interacting with their environment. The information gained enables species managers to be more effective with resources and more strategic in species conservation planning. The partnership with the University of Manchester brings together skills sets from both institutions and is a crucial step towards protecting some of the most charismatic species on our planet.
Professor Susanne Shultz, a Royal Society University Research Fellow from The University of Manchester, said:
This partnership represents the best of collaborative applied science. The university is combining its expertise, facilities and technology with the conservation experience and global conservation reach of the zoo to find innovative solutions to the global biodiversity crisis.