Huge Investment In Walking & Cycling
22 March 2019, 12:19 | Updated: 22 March 2019, 12:25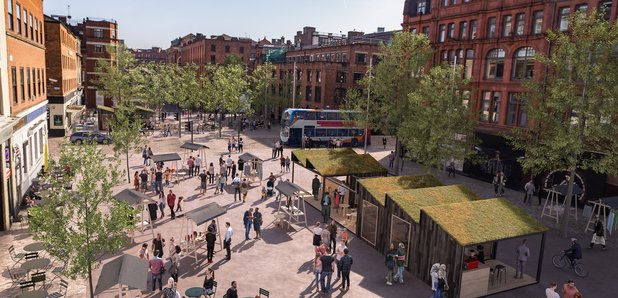 Plans for 18 new walking and cycling routes for Greater Manchester have been revealed.
It adds up to an investment of £137m in what's called Manchester's Bee Network.
The plans will be considered by Greater Manchester Combined Authority next week.
They represent the single biggest investment in cycling and walking ever announced in the city-region and mean Greater Manchester is investing around £18 per head per year on cycling and walking; one of the highest levels in the UK.
Schemes being proposed include plans for a £10.7 million cycling and walking corridor in Rochdale, a £11.6 million route between Manchester Piccadilly and Victoria stations which includes removing traffic from Stevenson Square, a spectacular 100 metre cycling and walking bridge linking Stockport railway station with the proposed new interchange, plus a £14.6 million bid to revolutionise travel on foot and by bike in Leigh, Atherton and Tyldesley.
Active neighbourhoods, where the movement of people are prioritised over the movement of motor traffic, are also proposed in multi-million pound projects in Levenshulme and Ordsall.
The Mayor of Greater Manchester, Andy Burnham, said: "This is a hugely exciting time for Greater Manchester – we're just at the start of a process that will see us eventually compete with some of the world's best and most liveable cities like Vancouver, Copenhagen and New York City. Greater Manchester's people, along with the 10 districts, have made it pretty clear that enabling more local journeys to happen without cars as part of a wider public transport offer is what is required to support the city-region on so many fronts – congestion, air quality, creating healthier and more connected communities. I'm delighted to be able to launch these plans in Leigh where we're going to have some really high quality cycling and walking routes linking up local amenities."
Greater Manchester's Cycling and Walking Commissioner, Chris Boardman, said: "The 42 schemes that are now on the books are truly transformational. We'll get a real bang for our buck here in terms of the positive knock-on benefits that will be made possible by this investment."
The Combined Authority's also going to consider a Greater Manchester wide bike hire scheme with more details being announced in the Spring.