Honour for Manchester fire dogs
29 August 2018, 08:49 | Updated: 29 August 2018, 08:51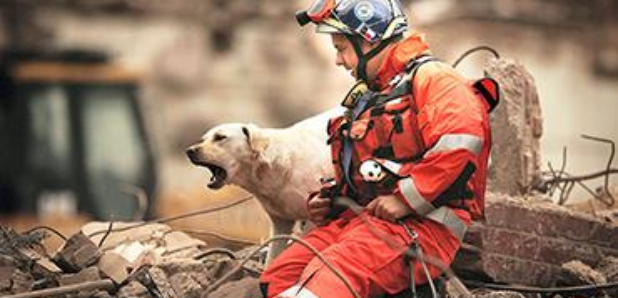 Two dogs from Greater Manchester Fire and Rescue Service will be awarded the animal equivalent of the OBE by leading vet charity PDSA, for their years of outstanding devotion and service to society.
Yellow Labradors Echo (14) and Cracker (13) will receive the PDSA Order of Merit at a special ceremony in October.
Today, their handler Mike Dewar was joined by Echo and PDSA Principal Vet, John Faulkner, to announce the forthcoming awards.
John said: 'We are honoured to recognise Echo and Cracker's devotion to duty with the PDSA Order of Merit - they are very deserving recipients. Throughout their lengthy careers they have given valuable service to both Greater Manchester and the wider world with their skill and dedication.'
Echo served with Greater Manchester Fire and Rescue Service as a Search and Rescue dog from 2004 to 2013. During his tenure, he was deployed as part of the UK Fire Service Overseas Response Team, to assist in the aftermath of an earthquake in Haiti, which completely devastated large parts of the country in January 2010. The capital, Port-au-Prince, was buried under tonnes of collapsed buildings and structures.
In the heat and humidity and accompanied by a UN Police convoy, Echo's skills were deployed to help speed up the search process. He conducted 46 separate searches over a two week period. Sadly, due to the magnitude of the quake, everyone that Echo found had already died.
Echo's handler, Mike, said: "I can honestly say that Haiti was hell on earth. The city's infrastructure had been decimated. There were no hospitals - survivors were relying solely on aid from outside the country to help them. For Echo, the smell of death surrounded him. As a puppy, he was taught to search for the living, but as the situation was so bleak and desperate, his searches for survivors were fruitless.
"He helped us find victims buried deep within collapsed buildings - libraries and shopping centres. I will always remember his whining as he struggled to fathom why he was surrounded by that one scent - a scent that he had been taught to ignore, but under those circumstances, that was impossible.
"Echo and I shared a tent and I think we were both glad of each other to cuddle up to after each of those gruelling days. Those sights will stay with me forever and I will always be grateful to Echo for the strength and determination he showed while we were deployed."
Despite the intensely challenging conditions, Echo worked tirelessly and without hesitation for almost two weeks before he and Mike returned home to the UK.
Cracker was a Fire Service Investigation Dog with Greater Manchester Fire and Rescue Service between January 2007 and February 2017. She was trained to detect 20 different types of accelerants, using her powerful sense of smell.
During her 10-year service, Cracker helped the forensic team determine the cause of fires and secured convictions of suspected arsonists. She was involved in a number of high-profile cases, including a double murder and serious assaults. She attended over 650 incidents, resulting in over 200 years of custodial sentences for arson-related crimes.
On 12 March 2013 a major explosion occurred at a large two-storey detached building on War Office Road, Rochdale. A strong smell of petrol was detected and Cracker was deployed to investigate. After an unproductive ground search, Cracker was instructed to climb what remained of the staircase, to search the upper floor. This meant negotiating a large hole in the floor, as well as making her way through fallen wooden beams and roofing materials.
Cracker tracked along the skirting board to a place outside where the bathroom had once been and gave a positive indication. As a result of her efforts, the Fire Investigation Team was able to determine that the explosion was a result of an arson attack.
On 5 March 2014 Cracker attended a 'halfway house' property in Ashton, Greater Manchester, where a man had been murdered and his body set on fire. Cracker, dressed in a forensic dog suit to preserve any evidence, undertook a search of the property and, as a result of her efforts, the culprit received a 30-year jail sentence.
On Cracker's actions, Mike said: "Cracker – or Lucy to her friends – was a constant source of excellent skill and drive whenever she was deployed to assist with an investigation. She was just as driven and determined on her last day as she was when she first started. An absolute class act. I am thrilled to see her recognised with the PDSA Order of Merit – it is a true honour."
As well as attending crime scenes, Cracker also visited schools to help educate young people in fire and home safety.
John Faulkner, Principal Vet at PDSA, said: "Both Echo and Cracker have displayed incredible skill in their respective roles. Their stories are a true inspiration and we are all thrilled that they will be receiving the PDSA Order of Merit – known as the animal equivalent of the OBE."
Echo and Cracker will become the 18th and 19th recipients of the PDSA Order of Merit, which, to date, has been awarded to seven dogs and ten horses.