City take bragging rights in the derby
12 November 2018, 05:29 | Updated: 12 November 2018, 05:32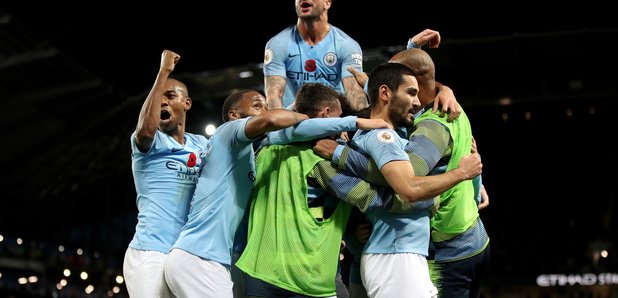 Manchester City manager Pep Guardiola was reasonably pleased with a deserved derby victory that left Manchester United counterpart Jose Mourinho clinging onto the positives.
David Silva's early goal was added to by Sergio Aguero just minutes into the second half, only for Anthony Martial to reduce the deficit from the spot and bring back memories of United's famous comeback in April.
But Mourinho's men were unable to stave off defeat at the Etihad Stadium, where substitute Ilkay Gundogan wrapped up a 3-1 win.
"First half not so good," Guardiola said. "We played like 'I don't want to lose the ball but not the intention to attack or to do something'.
"I feel when I watch my players, a team that feel a little bit the pressure. They want to do well in the derby. That's normal.
"Despite of that, we were stable, we score one goal, the first 15 minutes was so good and after that we didn't press so well.
"They could play more than usual but the second half we start from the beginning much, much better.
"We change the way we press (Victor) Lindelof and (Chris) Smalling, and of course the goal helped us lot from Sergio.
"After we concede one goal, it is inevitable to think about last season (United's 3-2 comeback win) what happened again in that situation.
"But we didn't concede one other chance, we defend so well.
"The free-kicks, they are so strong more than us, and especially when Gundogan and Raheem (Sterling) go in positions like striker, we had extra passes and play so good.
"The last 30 minutes, we made a very, very good game."
As for the tension at the end when Sterling irked Juan Mata by doing stepovers, Guardiola added: "It's not just the best way defending back, because everything can happen. But he made some movements with the legs, we can avoid it, but he's young and he's going to improve."
City boast a two-point cushion at the top after 12 games - a stage reached with three unbeaten teams for the first time in English top-flight history.
"It is two points," Guardiola said. "Four points from Chelsea. It is nothing... it's good, especially where we come from."
As for United, the defeat means they are as close to Cardiff in the relegation zone as league-leading City.
When that 12-point gap was mentioned to Mourinho in a question asking whether their title hopes were over, the Portuguese responded: "I think we are not going to be relegated."
Despite that brusque response, the United manager was largely upbeat after a loss in which his side's only shot on target was Martial's penalty.
In addition, the three goals conceded leaves them with a negative goal difference and an eye-watering 21 goals in the against column - perhaps underlining why he was so desperate for a centre-back in the summer.
"But I don't think today was the game to touch on that point," Mourinho said. "I think Victor and Chris had a positive performance.
"A kid (Luke Shaw) that made a mistake for the first goal is playing so, so, so, so well and last season he was playing one match every three months.
"In this moment, he is playing every game for 90 minutes, and when I speak about the physical fatigue, the mental fatigue that leads sometimes to small injuries, other times to mistakes during the game, that's what I mean.
"The game against Juventus was hard - very hard by the physical and mental point of view.
"I am with my players. I am even with the players that today made mistakes that lead to Manchester City goals.
"We are together, we are not going to be affected by this.
"I am just sorry we don't play the next match soon and we have to wait 15 days for that.
"But we are improving, we are together, and we go together until the end."
Mourinho was keen not to use the enforced absence of April's derby hero Paul Pogba as an excuse for the loss but felt Marouane Fellaini's impact would have been best served from the bench.
"Clearly one thing is to bring (on) a fresh Fellaini and another thing is to play him for 90 minutes in this match," said the United boss, who is not expecting Pogba to link up with France during the international break.
"For different reasons we missed Paul, but that doesn't mean with Paul we win the game so it's not an excuse."