Calls for Manchester City finance probe
7 November 2018, 05:03 | Updated: 7 November 2018, 05:06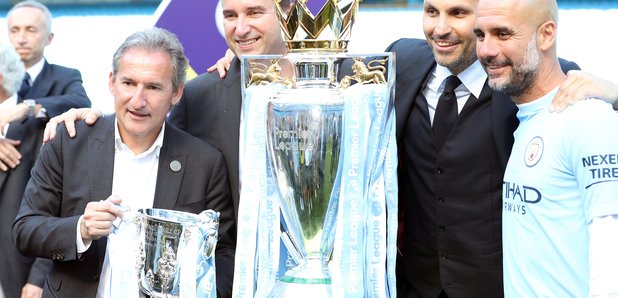 Manchester City are facing calls for Europe's footballing authorities to reinvestigate their finances following fresh allegations they tried to cheat the system.
City were punished for breaking UEFA's Financial Fair Play regulations in 2014, but German magazine Der Spiegel has published a series of new claims about the club's accounts in that period in recent days.
Last week they alleged the club struck a deal with UEFA, European football's governing body, to avoid a Champions League ban for their breach of FFP rules. This was followed up by further claims on Monday and Tuesday, including suggestions sponsorship deals with Abu Dhabi-based companies were topped up by discrete payments from City's owner Sheikh Mansour.
Der Spiegel, crediting Football Leaks, has also alleged the third-party company to which they sold player image rights was also funded by the Sheikh.
City have not commented on the stream of claims beyond referring to a statement they issued last week which read: "We will not be providing any comment on out of context materials purportedly hacked or stolen from City Football Group and Manchester City personnel and associated people. The attempt to damage the club's reputation is organised and clear."
Der Spiegel is planning to publish further stories related to City on Wednesday and Thursday.
LaLiga, the Spanish top flight, has said that, if UEFA does not act, it will "launch a complaint with EU competition authorities".
David Frommer, spokesman for the European Club Association, said the organisation had "full trust in UEFA's organs of control in holding clubs to account".
Gregory Ioannidis, a leading sports lawyer, told Press Association Sport an investigation was needed.
He said: "My view is that it has to be done by external independent bodies and preferably with the assistance of state authorities and law enforcement agencies."
UEFA said it "cannot comment on specific cases due to confidentiality obligations".
City manager Pep Guardiola was asked about the claims at a press conference to preview Wednesday's Champions League clash with Shakhtar Donetsk.
"The club has made a statement on Friday about what happened, stolen emails," he said. "Of course I trust the club, what they have done. Of course we want to follow the rules.
"I am a manager. I'm completely out of how we handle this situation. I'm part of the club, I support the club. We want to do what we have to do in terms of the rules."
Guardiola added that City "have to live with" suggestions they have bought their success.
"If people say it's just about money we accept it, but that point of view is completely wrong," he said.
Guardiola's prime focus was on matters on the pitch and a game against Shakhtar he feels is more important than Sunday's derby against Manchester United. City, who lead Group F, can take a big stride towards qualification for the last 16 with victory over the Ukrainian champions.
"Every game is important and you have to evaluate," he said. "The most important will be Shakhtar, first because it is the next one and second because it is a final.
"After dropping points against Lyon, every game is a final. After we have three or four days to think about United."