Work begins on new Merseyrail trains
26 June 2018, 13:03 | Updated: 26 June 2018, 13:10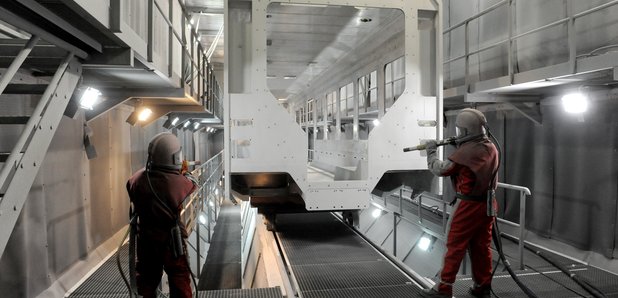 Work is starting on the next generation of Merseyrail trains.
Swiss train-builder, Stadler, is providing 52 new trains for the Liverpool City Region, arriving on the
Merseyrail network in 2020. The design phase is now close to completion and the initial batch of raw material
has now been delivered to Szolnok. The first metal will soon be cut and all the on-board systems have been
placed on order.
This critical stage in the process follows the completion of the second phase of the three-part design
process, undertaken at its factory in Valencia, Spain. The design phase relates to the visual and technical
aspects of the units, and involves close collaboration with client, Merseytravel and operator, Merseyrail. All
three phases are subject to the approval of Merseytravel, who are buying the new trains.
Over the next few months, the car-bodies will be machined, welded, sandblasted and given anti-corrosion
protection before they are painted. Once that's complete, around half of them will be transported from
Szolnok to Altenrhein in Switzerland and the other half to Siedlce in Poland.
Final assembly will be carried out at both of these locations and the manufacturing of the first car-body is
expected to be ready by the end of September. Once assembly has been carried out, they will be taken to
the Liverpool City Region for type-testing, which will take place in the summer of 2019. The new trains will be
introduced on to the network gradually, with most expected to be in service by 2020.
Project manager, Fadi Khairallah from Stadler, said:
'The car-bodies for the new trains are highly sophisticated and tailormade to suit the characteristics of the
network, for example the single bore tunnels under the River Mersey, as well as the platforms of some of the
historic stations, built during the Victorian era. This stage in the process really brings the project to life,
bringing us one step closer to the introduction of the trains within a couple of years' time.'
Liam Robinson, Liverpool City Region Combined Authority, transport portfolio holder, added:
'We're really pleased to see the new trains for our region are on track to arrive on time and to budget. Faster,
safer and more comfortable they will transform how people travel and cut journey times by up to 10 per cent.
We look forward to welcoming the first train on the network for testing next year.'
Andy Heath, managing director at Merseyrail, concluded:
'This is a significant milestone in the process of delivering new trains, as the project moves into the production stage and we are looking forward to the new trains taking shape. Built specifically for our network, these state-of-the-art trains will have many sophisticated features, which will transform rail transportation in the city region.'