'Uber for buses' coming to Liverpool
26 June 2018, 13:12 | Updated: 26 June 2018, 13:15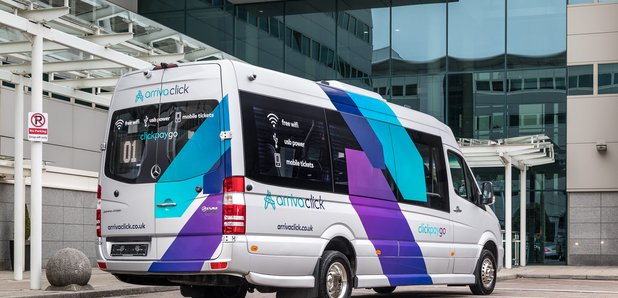 Liverpool will be the first city in the country to get a smartphone-controlled bus service.
ArrivaClick, which will become operational later in the summer, promises to combine the cost effectiveness of bus travel with the convenience of personalised transit. There are no fixed routes, with journeys determined by where passengers want to go within an area running from the city centre to Liverpool John Lennon Airport and connecting Liverpudlians to transport, work and shopping.
Arriva is working with Merseytravel to roll-out the new cashless service later in the summer, initially with six luxury buses but with a view to running 25 vehicles by summer 2019. They plan to create up to 70 new bus-driving jobs for Liverpool, with fifteen available immediately. ArrivaClick minibus
Passengers can 'order' and track a vehicle from the app, which will also tell them the name of the driver, and allow them to choose their pick-up point, and reserve a seat. Powered by the sophisticated technology of global ride sharing transportation firm Via, algorithms will seamlessly match passengers traveling in the same direction, dynamically routing vehicles in real-time to find the optimal route for their trip.
The shortest and fastest routes are calculated, with a guaranteed fare and real-time information on time of departure and arrival is provided. Passengers are then picked up and dropped off by the bus in the order most convenient for them.
On board, ArrivaClick offers free Wi-Fi, charging points and leather seats. Sharing journeys has the added advantage of helping to reduce air pollution and congestion in urban areas.
Steve Rotheram, Metro Mayor for the Liverpool City Region, said: "I'm committed to making the Liverpool City Region more connected and accessible with quality infrastructure. Delivering great public transport services plays a key role in that. People's lifestyles and expectations are changing, and we need to continue to modernise and renew our transport network to meet those needs.
"At the same time, we should be mindful about the impact this has on the environment. That means thinking more creatively and providing innovative services that deliver tangible benefits for both passengers and the environment."
During a pilot in Kent, more than 50% of customers surveyed switched from using private cars to ArrivaClick, with 61% of users using the service a few times a week or more. 43% adopted the service for their daily commute and the average rating for users was 8.3/10, with 9 out of 10 saying they would recommend it to a friend.1
Kevin O'Connor, Managing Director of UK Bus, Arriva, said: "The bus services we run in Liverpool are relied upon by thousands of customers every day, and we are proud to bring this innovative and complementary new service to the city.
"ArrivaClick will complement existing public transport in the region, giving customers more options to use shared transport and we have big ambitions to make this flexible, responsive service available for thousands more journeys.
"Liverpool is a city that embraces new ideas, so it was the natural choice for us."
Matt Goggins, Head of Bus at Merseytravel, added: "We are delighted that ArrivaClick is set to launch in Liverpool. One of Merseytravel's main aims is to make sustainable journeys a more attractive choice for people in the Liverpool City Region, particularly when accessing things like training, education and employment. By providing a new way to use public transport, ArrivaClick really supports that vision."
John Irving, CEO of Liverpool John Lennon Airport also welcomed this new service. "This innovative new scheme will give greater choice of public transport options not only for passengers travelling to and from the Airport, but also for employees based here, helping to fill gaps in the existing bus service provision."
Passengers can download the ArrivaClick app via the iOS or Android app stores once the service is up and running.