Liverpool Dad Reveals Pain Of Life After Murder
22 October 2018, 07:02 | Updated: 22 October 2018, 07:24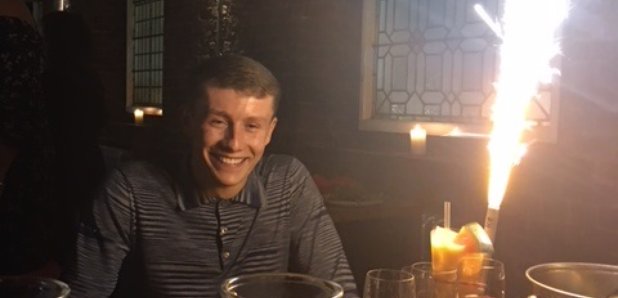 The dad of Sam Cook, who was stabbed to death at Empire bar in Liverpool last year while out celebrating his 21st birthday, is calling for society to come together to stamp out knife crime.
In the twelve months since Sam's death, Alan says his family has been badly affected by his murder.
"Saturday night, I got that knock on the door. He said you need to come with me straight away, your son has been stabbed in town.
"He went into town in a taxi, and came out of town in a body bag.
"It's the worst ever moment.
"The doctor said "We tried really hard but the knife went into his heart and came out the other side". Sadly it was too late.
"He had a sheet over his body, they moved the sheet away and I didn't even recognise him. He was dead. He was grey. I hardly recognised him.
"I seen the perpetrator come into the dock. He looked like a little boy, he didn't look nothing, but he killed my son. He was guilty as sin.
"This has affected so many people. It's affected the whole of Liverpool, there'll be people out there now who won't want to come into town.
"It's made us all a lot more aggressive, we all flip on the turn of a coin now. It didn't use to be like that."
Sam's killer, Carl Madigan, was locked up for life earlier this year, with a minimum term of 28 years, after being found guilty of his murder. It was revealed in court that Madigan had been in trouble with the police before for carrying a knife.
Alan said: "Madigan is in jail now and able to wake up and talk. Poor Sam is in the sky now. Our whole family's devastated. Sam was a decent kid, he didn't deserve what happened to him that night.
"We are all angry, even my ten year old little boy, he won't even look at a picture of Sam. Life is a lot different since all this happened."
On Saturday, hundreds of people joined Sam's family to march from Williamson Square to Empire Bar, wearing t-shirts emblazoned with 'No More Knives' and a picture of Sam.
Latest figures show, over the last 12 month period, knife-related offences have increased by almost a quarter on Merseyside, with 1,016 being reported to police.
On Friday night, a man was stabbed in the face at Heebie Jeebies on Seel Street - the bar directly opposite where Sam was murdered.
#NoMoreKnives