Giant Crowds for the Spectacular
8 October 2018, 16:19 | Updated: 8 October 2018, 16:27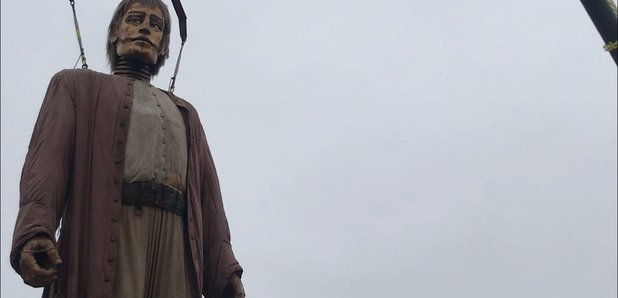 The Royal de Luxe theatre company's Giants carried out their final ever performances across Liverpool and Wirral from Thursday to Saturday=
Liverpool City Council said early estimates showed 1.3m people had travelled to the area to enjoy the spectacle, which saw Giant, Little Boy Giant and dog Xolo exploring the streets.
Huge crowds filled Liverpool's Strand on Saturday and Sunday to catch a glimpse of them.
During the four-day performance spectators saw the Giant wake up on New Brighton beach in Wirral before eventually meeting up with Little Boy Giant and Xolo over the water in Liverpool city centre.
On Sunday afternoon crowds were surprised with an appearance from a fourth giant, Little Girl Giant who had wowed crowds in the city four years before.
Mayor of Liverpool Joe Anderson wrote on Twitter: "In a world becoming more divided the arts help us forget for a while.
"Our city has been under the spell of the Giants but our unity & pride in our city means people are under the spell of Liverpool."
The performance also saw a bus sliced by a giant butter knife and a car with an enormous fork in appear on city streets.
A tweet from Liverpool council said: "Wow! Early estimates show around 1.3m headed to L'pool and Wirral to share in the Giant magic.
"Thanks to everyone who came to experience this unforgettable event and au revoir to our favourite Giant friends who made these past 4 days so special."
Before the Giants' visit, founder and creative director of Royal de Luxe Jean-Luc Courcoult announced it would be their last performance.