Birkenhead MP quits Labour whip
31 August 2018, 05:54 | Updated: 31 August 2018, 06:03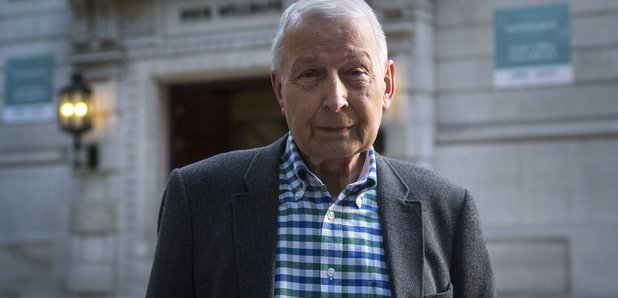 Labour veteran Frank Field is set to hold showdown talks with the party's chief whip after resigning with a warning that Jeremy Corbyn's leadership has become a "force for antisemitism".
Mr Field, who has served as the MP for Birkenhead for almost 40 years, is set to meet with Nick Brown in Westminster today (Friday) to discuss his options after resigning the whip.
Labour sources have said Field's wish to serve as an Independent MP while remaining a member of the party is "not possible".
Under the Parliamentary Labour Party standing orders, which governs MPs, anyone who takes such action will usually get a letter asking them to retake the party whip within 14 days or face expulsion.
Labour's shadow justice secretary Richard Burgon last night called on Mr Field to fight a by-election, tweeting: "Politicians who are elected as Labour MPs by their constituents and who then leave the Labour Party should do the right and respectful thing and call a by-election straight away.
"They should ask for their constituents' consent to continue to represent them on a different basis."
Mr Field, the one-time minister for welfare reform, who was charged by Tony Blair to reform the welfare state by "thinking the unthinkable", said in his resignation letter that the party was now governed by "a culture of intolerance, nastiness and intimidation".
He said: "I am resigning the whip for two principal reasons.
"The first centres on the latest example of Labour's leadership becoming a force for antisemitism in British politics.
"The latest example, from last week, comes after a series of attempts by Jeremy to deny the past statements and actions by him were antisemitic.
"Britain fought the Second World War to banish these views from our politics, but that superhuman effort and success is now under huge and sustained internal attack.
"The leadership is doing nothing substantive to address this erosion of our core values.
"It saddens me to say that we are increasingly seen as a racist party. This issue alone compels me to resign the whip."
Labour deputy leader Tom Watson said Field's resignation should serve as a "major wake up call" to the party.
He said: "This is a serious loss to the party and I deeply regret Frank's decision. It reflects both the deep divisions in the party and the sense of drift engulfing us.
"It is a major wake up call. We cannot afford to lose people of such weight and stature."
Labour MP Wes Streeting (Ilford North) raised concern Mr Field "won't be the last" to resign.
He said: "Antisemitism and the toxic political culture in the Labour Party are issues that need to be immediately addressed by the Labour leadership if they're to stop this becoming a full-scale existential crisis of the Labour Party.
"I've made very clear that I'm not about to leave the Labour Party because of these people, but I'm afraid Frank Field isn't the first Labour MP to quit and at this rate he won't be the last.
"It would be an absolute tragedy if the Labour Party were to split, but we should be in no doubt that this is the biggest crisis facing the party since 1981."
Mr Field, who chairs the Commons work and pensions committee, has faced criticism from party members for his voting record on key Government Brexit legislation and last month lost a motion of no confidence in his local party.
A spokesman for Jeremy Corbyn said: "Jeremy Corbyn thanks Frank Field for his service to the Labour Party".