BIG changes for Liverpool bus routes
18 June 2019, 11:12 | Updated: 18 June 2019, 11:21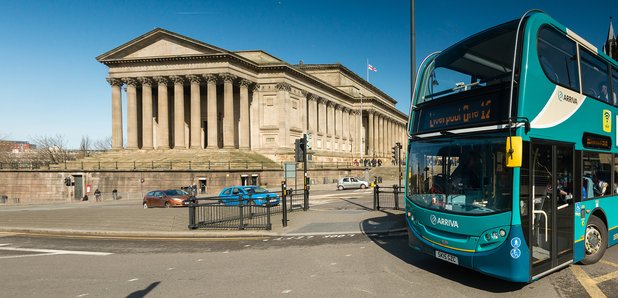 The Changes are part of wider Liverpool City Council ambitions to improve traffic flow and tackle pollution in the city centre.
Liverpool City Council's £47m City Centre Connectivity Scheme (LCCCS) has been devised in response to the multi-billion pound transformation the city centre has undergone over the past 20 years - and to anticipate the further growth planned over the next two decades.
The scheme's principal aims are to make the city centre a cleaner, greener, more attractive place for residents, commuters, shoppers and visitors – one where walking and cycling are more viable choices to get around. This will be achieved by improving the public realm and changing how traffic moves through the city, reducing congestion and improving air quality.
The scheme includes lane reductions on The Strand and Victoria Street, the closure of Mann Island and Lime Street to through traffic, and the creation of a new bus hub at Old Haymarket in a bid to reduce the number of buses parking on-street and travelling around the city centre.
While more than four in five city centre bus users (82 per cent) will see no change, an estimated 11,000 people a day will see changes to where they get on and off.
Bus boarding and alighting points will be generally be focussed in or around Queen Square and Liverpool ONE bus stations. However, for those who need it, a frequent cross-city bus service will run between both bus stations.
Information on proposed service changes, including simple maps for each route affected, can be found at www.merseytravel.gov.uk/citycentrebus.
People will have opportunity to comment via the website or discuss the changes at various drop-in sessions until Friday 2 August. Dates and times are available online.
Cllr Liam Robinson, Chair of the Liverpool City Region Combined Authority's Transport Committee, said:
"Merseytravel and bus operators are supporting Liverpool City Council in its vision for a transformed, cleaner, greener city centre– one that's more pleasant to get around, less congested, and with improved air quality. To achieve this there has to be changes to how traffic moves around, including buses.
"Some people will be able to get on and off where they do now, others may be closer to their end destination and some may need to walk a bit further, and that's why there will be cross-city bus provision between the two bus stations for those who need it.
"We encourage people to look at the re-routing proposals so they can be prepared for what it means for them from January 2020. We do welcome people's comments, but we have to be clear that we will be limited in any changes we can make because of the changing layout of the city centre.
"Bus remains a high-quality travel option to get you to and from the city centre. We have one of the youngest fleets in the country, with WiFi on all Arriva and Stagecoach services and USB charging points on the majority."
Said Councillor James Noakes, Cabinet Member for Highways at Liverpool City Council:
"A dynamic city centre constantly evolves and changes. Ours has changed dramatically in the past 20 years and yet the road network hasn't kept pace with how it is now used now and how it will be in the future.
"We need to make the city centre more user-friendly for pedestrians, cyclists, bus or cruise passengers, and by improving how people get around using more sustainable modes of transport we can tackle the issue of air quality and reduce carbon emissions.
"While the city centre connectivity scheme is a large-scale strategic look at getting Liverpool fit for the future, there has been a long history of significant changes to how people use the city centre such as Lord Street being pedestrianised in 1987 and LiverpoolONE in 2007– changes that people have adapted to.
"We thank people in advance for their patience and support. We are confident that the works will ultimately make the city centre a healthier and more attractive place to work, visit, shop and invest in."
For more information on Liverpool City Council's City Centre Connectivity Scheme visit www.liverpool.gov.uk/betterroads
CREDIT: Liverpool City Council / Merseytravel