12 charged following drugs raids
17 May 2019, 13:25 | Updated: 17 May 2019, 13:27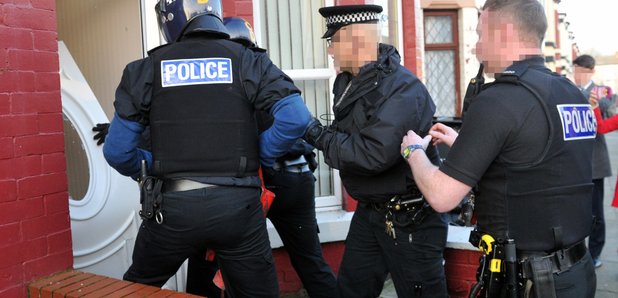 12 people have been charged following a series of warrants executed by police investigating drug dealing in Liverpool city centre.
During the course of a six-month investigation, officers identified a network of drug dealers selling Class A and B drugs to revellers in the areas of Concert Square, Slater Street Fleet Street, St Peters Square and Wood Street in Liverpool city centre.
Officers arrested arrested 12 people yesterday on suspicion of offences including conspiracy to supply cocaine. Cash and drug and paraphernalia were also seized.
The following have been charged with conspiracy to supply a Class A controlled drug (cocaine), and remanded in custody to appear at Wirral Magistrates Court this morning (Friday 17 May 2019).
Justin Sebastian, 18 years, of John Lennon Drive, Liverpool
Vito Morgan, 18 years, of Holly Street, Manchester
Yusuf Omar, 26 years, of Geraint Street Liverpool
Alexander Fairclough, 19 years, of Walton Village, Liverpool
Ryan Brown, 18 years, of Esmond Street, Anfield, Liverpool
James Quick, 18 years, of Irwell Close, Liverpool
Ibrahim Fox, 27 years, of Geraint Street, Toxteth
A 16-year-old male from Crosby
Abdulhalim Seidu, 30 years, of Croxteth Road, Toxteth
Haitham Alasaly, 19 years, of Corinto Street, Toxteth
Lewis Pramoh, 18 years, of Jermyn Street, Toxteth
A 17-year-old male from Kensington