Hundreds Speak Out After Lancashire Tattoo-athon
8 April 2019, 06:00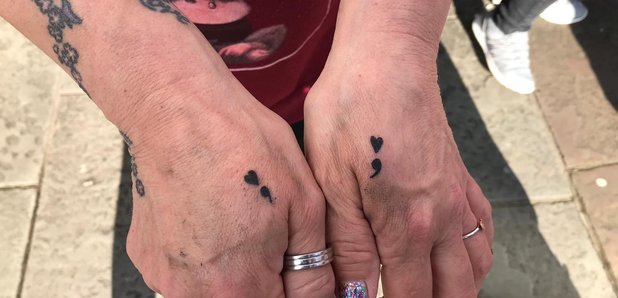 A woman from Lancashire's inspired hundreds of people from across the county to get a tattoo highlighting mental health and suicide.
Danielle Shaw from Blackburn came up with the Semi Colon event, in memory of her stepdad, who took his own life in 2016.
She told Capital what the semi colon represents: "It's a huge conversation stater, so people can open up and not feel isolated. I'm in shock at how many people are involved, a lot of people are opening up to me and aren't alone. Showing people to continue in life, and their story is not over."
More than 80 tattoo studio sin Lancashire joined in with the event last week - and tattooed hundreds of people with a semi colon.
Danielle's boyfriend Jamie Holding used the event to get his first ever tattoo. He says he did it because it's for a brilliant cause: "I've just got my semi colon tattoo on my wrist - it wasn't as bad as I thought it would be! The semi colon project raises awareness of mental health and bringing everyone together. It means continuing with life. It's just having a voice and having support groups, to show people do care and urging people to talk."
One of the studios involved was Beautiful Custom in Leyland.
Owner Kirsty Marland says she had to get involved: "It's close to many people's hearts - including mine, as I lost someone a few years ago. We all know someone who knows someone who's done it. You've got to be in a really bad place to do that, which is such a shame that they feel they have no one to talk to."
Declan Whittle, from Leyland, has had his own battles with mental health and depression over the years. He says the tattoo symbolises that life carries on: "It's good that we have a tattoo that represents our side, which tells the story even if we don't want to. If we talk about it, we can do something about it, But people don't, because you're seen as different if you've got something wrong with you.
"You can sometimes feel like there's nothing else you can do, I've nearly done it myself, but I've got help. Without it, I probably wouldn't even be here."