Murray Prepared For Grass Season
15 June 2015, 10:13 | Updated: 30 March 2016, 13:50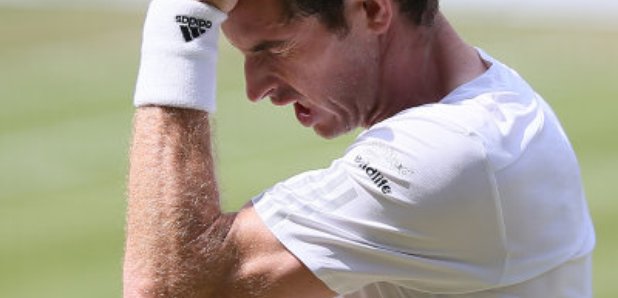 Andy Murray admits he has "hardly watched'' replays of his 2013 Wimbledon triumph, but hopes to conjure up another magic summer on the grass courts of the All England Club.
The 28-year-old will this week start his quest for a fourth title at Queen's Club in the Aegon Championships having battled through a low-grade illness during his run to the semi-finals of the French Open in Paris.
Murray has impressed on clay this season, but intends to make a smooth transition back onto the lawns at SW19.
While that often involves a bit of prep by going over previous tournaments, Murray revealed he does not dig out the DVD of the moment he ended a 77-year wait for a British men's singles champion at Wimbledon as often as you might think.
"That is one of the matches, I don't know why, that I have hardly watched at all. I have watched bits of the match, but not extended periods,'' Murray said in a number of national newspapers.
"It is more the Olympics. I have watched my (semi-final) match with Novak (Djokovic) at the (London 2012) Olympics a couple of times, and the final with Roger (Federer) quite a few times, rather than Wimbledon.''
Murray continued: "Often when I move on to a new surface, I watch some videos of matches where I feel I have played well in that -tournament or on that surface.
"You see things you were doing well, the things giving you success, and it is to remember that. If you are still in the same mindset of playing on clay and what you were doing well on clay, it doesn't necessarily help.''
Murray's pregnant coach Amelie Mauresmo will not join his back-room staff at the Aegon Championships, but will be on hand for Wimbledon, so assistant Jonas Bjorkman will step in.
"We have spent four or five days on the grass now,'' said Murray. "The things he did extremely well as a player are things I think I could really learn and benefit from with him. He was a very aggressive returner and I think that works extremely well on grass courts.
"He was very good up at the net. He was the number one doubles player in the world.
"If you can get yourself up to the net and play aggressive tennis, it can make a big difference on this surface.
"There are things I am hoping I can work on and improve upon within my team and see how it goes.''
Tennis bosses have this year added an extra week's break to the global calendar between the end of the French Open and the start of Wimbledon.
Queen's has become an ATP 500 event, worth double the rankings points and with the winner's prize money up to some 380,000 euros (£274,000).
Murray, who last won the title in 2013 and is set to play qualifier Lu Yen-hsun of Chinese Taipei on Tuesday, added: "If I win this tournament it doesn't guarantee I'm going to win Wimbledon, but it does show form on grass.
"I feel like the past few months consistently I have been playing well at the big events and hopefully that will stand me in good stead.''
Monday's order of play at Queen's will see British wildcard James Ward take on Canadian number three Milos Raonic while defending champion, Grigor Dimitrov of Bulgaria plays American Sam Querrey.