Uni of Nottingham Students Apologise For Roller-coaster Costume
20 October 2016, 14:22 | Updated: 20 October 2016, 16:37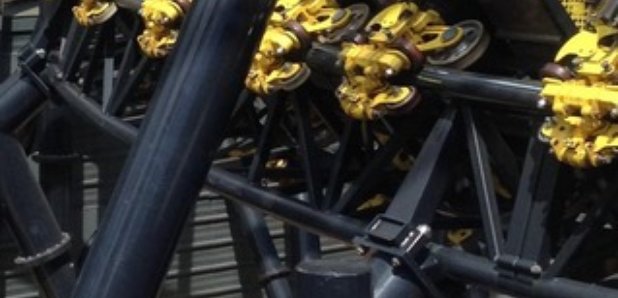 Students from the University of Nottingham have apologised to the victims of the Smiler crash for a costume worn on their pub crawl
The Student's Union for The University of Nottingham has released a statement today, after images emerged online of some of its students dressed up as a roller-coaster for a fundraising pub crawl.
"On 17 October 2016, 3000 students attended an annual event organised by RAG volunteers. During the course of the event, photos of the team dressed as a rollercoaster were taken by The Tab Nottingham. The costume was in no way intended to reference the tragedy that occurred on the Smiler roller coaster at Alton Towers. Its design was based on a traditional concept that has existed for several years and no reference was made to the Smiler by the students involved. '7 legless' was intended to be a pun on the name of the bar crawl '7 Legged' and the state of being inebriated. The article that was published The Tab Nottingham on 19 October 2016, was a misrepresentation.
The students involved further wish to apologise unreservedly to those affected by the Smiler incident for any offence or distress they may have unwittingly caused."
The crash at Alton Towers in June 2015 resulted in 5 people being seriously injured with 2 teenage girls needing leg amputations. That included Derby University student Vicky Balch.
Pub crawl team dress up as Alton Towers Smiler ride amputees https://t.co/KSAwXPBIcn pic.twitter.com/DnU49ItFdD

— The Tab (@TheTab) October 19, 2016
After the above image appeared online, victims of last year's crash, Joe Pugh and girlfriend Leah Washington took to Twitter.
How awful and disrespectful can people get? Disgusting https://t.co/Nim9pJuo9m

— JP (@JoePugh_) October 19, 2016
The University of Nottingham also released a statement, telling Capital they are working with the Student's Union:
"The University of Nottingham has liaised closely with the Students' Union (SU) since it became aware of the conduct of students attending an SU-organised event on 17 October. The University is aware of the SU's initial investigations regarding this matter and its media statement issued today. The University expects to receive a full report from the SU on the conduct of the event on 17 October and the future of the event itself."

The deputy editor of the Nottingham Tab said a story they published on the costume was not a "misrepresentation", in reaction to a claim by the union that it was.
Joseph Archer admitted he had not spoken to the group to ask what their costume was about, while reporting on the 3,000-strong event on Monday.
He said:
"Sadly it was in a very busy bar. I didn't really have a chance to speak to them because there were so many people in the bar wearing different costumes."
The 21-year-old natural sciences student added:
"We've heard a lot of excuses but I just reported on what was there and what happened and what they were doing. I don't think it was misrepresentation."