Tunisia Inquests: Derbyshire Holidaymaker Told Sousse Was "100% Safe"
6 February 2017, 19:08 | Updated: 6 February 2017, 19:12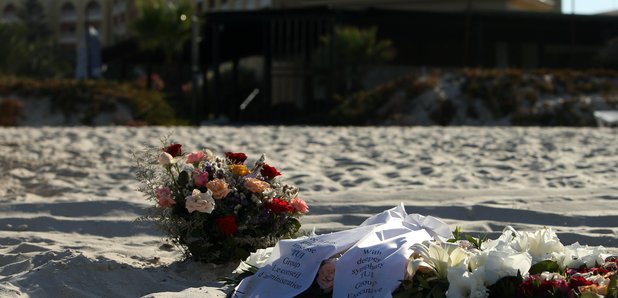 A Derbyshire holidaymaker who was in Sousse on the day of the terrorist attack said he was told by a travel agent that it was "100% safe'' when he was looking into the trip, an inquest has heard.
Paul Thompson said that he and his wife were "pushed'' towards choosing Tunisia and were told that there were "special deals'' on offer at that time - weeks after the attack at the Bardo National Museum in the capital, Tunis, in March 2015, in which 24 people were killed.
A Thomson travel agent said she did not give a safety guarantee to the couple, and that she would not say somewhere is completely safe.
Mr Thompson said they were told the atrocity was a "one-off'' and that another travel agent likened it to avoiding Skegness if there was an attack in London.
On June 26, when Mr Thompson was on holiday, Seifeddine Rezgui opened fire at the five-star Riu Imperial Marhaba Hotel in Sousse killing 38 tourists, including 30 Britons.
The inquest into the deaths of the Britons at the Royal Courts of Justice heard that Mr Thompson and his wife had visited the Thomson travel agents in Ilkeston on May 5.
They wanted to discuss changing their holiday to Greece to a different destination.
"We originally wanted Egypt but the travel agent pushed for Tunisia,'' Mr Thompson told the inquest.
He said in his statement that he could get all inclusive in a five star hotel because there were "special deals on in Tunisia at that time''.
Mr Thompson said his wife Zoe mentioned the Bardo attack to the travel agent, and said they were told it was a "one-off'' and the place was "100% safe''.
He added: "In fact, one of the travel agents there likened it to if something happened in London, would that stop you from going to Skegness?''
In his statement he said they were told the Bardo attack was "a one-off like the 7/7 bombings''.
Amy Smallman, assistant manager of the Thomson travel agents in Ilkeston, told the inquest she did not tell the Thompsons that the destination was "100% safe''.
Ms Smallman said she does not give safety guarantees to customers because "nowhere is 100%'', adding: "I wouldn't say that to somebody. It's not 100% safe to walk out your front door.
"I wouldn't say that to somebody.''
Asked if she was particularly "pushing'' Tunisia, she said: "No, not at all.''
Mr Thompson said he was "100% certain'' that he and his wife had been given the safety guarantee, adding that a holiday rep at a welcome meeting in Tunisia also said the place was "100% safe''.
Ms Smallman said it was "ridiculous'' to suggest that a colleague would have made the Skegness remark.
"No. That's just ridiculous. We wouldn't say that to somebody at all,'' she said.
The inquest heard the Thompsons were looking for value and wanted to get more for their money, and Ms Smallman said Tunisia was a "better value destination''.
Asked if there was a push from more senior people within the firm to sell Tunisia, she said there was not.
"It's just not something that we're told to do. We're not told to push a certain destination because it's struggling,'' she said.
The inquest also heard that customers booking their holiday online would not have come across any reference to the Bardo attack as TUI - owner of Thomson and First Choice - did not make any changes to its website following the atrocity.
Marc Worrall, general manager for digital services operations and quality team at TUI, was asked if he had been given any changes for the websites by TUI after the Bardo attack and he said he had not.
Cheryl Stollery, wife of victim John Stollery, said she was not aware of the Bardo incident until after the Sousse attack in which her husband was killed.
Mrs Stollery, who booked her June holiday before the Bardo attack, told the hearing she had always booked her trips in travel agent shops rather than online and would have expected to have been notified of any relevant information.
"I felt confident that if there was anything I needed to know then that information would be shared with me,'' she said.
Mrs Stollery, who was also in Sousse in February 2015, was asked if she was at any point given advice, written or verbal, to go to the Foreign and Commonwealth Office (FCO) website, and she said she was not.
Mrs Stollery recalled that nobody ever checked the hotel wristbands worn by her, Mr Stollery and their son Matthew.
Earlier, Tracey Emery gave evidence to the inquest about wanting to change the destination of the Sousse holiday booked by her daughter.
Ms Emery, who agreed that she was well travelled and often checked the FCO's travel advice, said she had tried to change the country on the booking but was told that she was ``just outside the time limit''.
Howard Stevens QC, counsel for TUI, put it to Ms Emery that she may have been confusing amendment and cancellation, adding that she could have changed the destination for £50 per person plus the difference in price if there was one.
The inquest continues at 10am on Tuesday