Team GB Make History At Rio 2016
22 August 2016, 07:16 | Updated: 22 August 2016, 07:23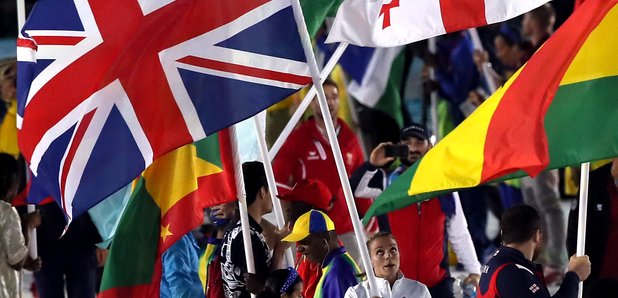 Team GB have won more medals in Rio than they have for over a century
Team GB's Most Successful Games In A Century

Great Britain and Northern Ireland achieves a historic 2nd place in the Olympic medal table. They have won more medals in more sports than when they staged the Games in London 4 years ago. Medals won across more sports (19) than at London 2012 (17) and gold medals won in more sports (15) than by any other nation at the Rio Games.

They've finished second in the Rio 2016 medal table above China for the first time ever. Joe Joyce's silver in the super-heavyweight boxing was the 700th Olympic Paralympic medal since lottery funding started in 1997 after the scant success in Atlanta when Britain won only one gold and medals in six sports!

In Rio we had 130 Olympic medallists (up from 114 in London), including a record 59 female medallists! Kate Richardson-Walsh the Olympic hockey champion and captain carried the union flag for Team GB at the closing ceremony.

London 2012 set the bar extremely high for the Olympics. Widely thought as the greatest games ever and spectacular success for Team GB. Rio had a lot to live up too, with organisers struggling at times but overall the South American carnival culture's ensured a friendly and entertaining games.
Here is a reminder of who won what:
Team GB medals: 67
Gold: 27 Silver: 23 Bronze: 17
Gold - Adam Peaty 100m breaststroke
Gold - K1 canoe slalom Joe Clarke
Gold - 3m synchro diving Chris Mears/Jack Laugher
Gold - Mens Team Sprint Jason Kenny Callum Skinner Phil Hindes
Gold - Womens Pair Helen Glover Heather Stanning
Gold - Mens 4 Alex Gregory Mohammed Sbihi George Nash Constantine Louloudis
Gold - Mens Team Pursuit Bradley Wiggins, Ed Clancy, Steven Burke Owain Doull
Gold - Mens Eight Scott Durant Tom Rankly Andrew T Hodge Matt Gotrel Pete Reed Paul Bennett Matt Langridge Will Satch Phelan Hill (cox)
Gold - Women's Team Pursuit Laura Trott Joanna Rowsell Shand Elinor Barker Katie Archibald
Gold - Mo Farah 10,000m
Gold - Max Whitlock Individual Floor Final, Gymnastics
Gold - Justin Rose Golf
Gold - Max Whitlock Pommel horse, Gymnastics
Gold - Jason Kenny Mens Sprint
Gold - Andy Murray Mens Singles
Gold - Charlotte Dujardin & Valegro Individual Dressage
Gold - Giles Scott, Finn Sailing
Gold - Laura Trott Omnium
Gold - Jason Kenny Keirin
Gold - Alistair Brownlee Triathlon
Gold - Saskia Clark Hannah Mills 470 Sailing
Gold - Jade Jones Taekwondo
Gold - Nick Skelton Individual Showjumping
Gold - Women's Hockey Team
Gold - Liam Heath, 200m Single Kayak
Gold - Nicola Adams Boxing
Gold - Mo Farah 5000m
Silver - Jazz Carlin 400m freestyle
Silver - Siobhan Marie O'Connor 220m Individual Medley
Silver - Men's 4x200m Freestyle Relay - James Guy, Dan Wallace, Duncan Scott, Stephen Milne
Silver - Kath Grainger & Victoria Thornley - Double Sculls
Silver - David Florence & Richard Hounslow - C2 Canoe Slalom
Silver - Men's Rugby Sevens Team
Silver - Team Dressage Charlotte Dujardin Carl Hester Fiona Bigwood Spencer Wilton
Silver - Bryony Page Trampoline
Silver - Jazz Carlin 800m Freestyle
Silver - Women's Eight - Katie Greves Melanie Wilson Frances Houghton Polly Swann Jessica Eddie Olivia Carnegie-Brown Karen Bennett Zoe Lee Zoe de Toledo (cox)
Silver - Women's Keirin Becky James
Silver - Men's 4x100m medley relay
Silver - Jess Ennis Hill Heptathlon
Silver - Nick Dempsey Windsurfing
Silver - Louis Smith Pommel horse, Gymnastics
Silver - Callum Skinner Mens Sprint
Silver - Mark Cavendish Omnium
Silver - Becky James Sprint
Silver - Jack Laugher 3m springboard
Silver - Liam Heath & Jon Schofield, 200m Double Kayak
Silver - Jonny Brownlee Triathlon
Silver - Lutalo Muhammad Taekwondo
Silver – Joe Joyce Boxing Superheavyweight
Bronze - Tom Daley & Dan Goodfellow 10m Synchro diving
Bronze - Ed Ling Mens Trap Shooting
Bronze - Chris Froome Cycling Time Trial
Bronze - Steve Scott Double Trap Shooting
Bronze - Sally Conway Judo Womens 70kg
Bronze – Max Whitlock Gymnastics
Bronze - Greg Rutherford Long Jump
Bronze - Sophie Hitchon Hammer
Bronze - Amy Tinkler Individual Floor
Bronze - Nile Wilson Individual High Bar
Bronze - Katy Marchant Sprint
Bronze - Joshua Buatsi Boxing
Bronze - Marcus Ellis Chris Langridge Badminton doubles
Bronze - Women's 4x100m relay
Bronze - Vicky Holland Triathlon
Bronze - Biance Walkden Taekwondo
Bronze - Women's 4x400m relay
Final Medals Table:
1. USA
2. Great Britain
3. China