'Sinister' Nottingham Man Jailed For Stockpiling Weapons To Stop A 'Lee Rigby Style Attack'
12 January 2017, 17:43 | Updated: 12 January 2017, 17:48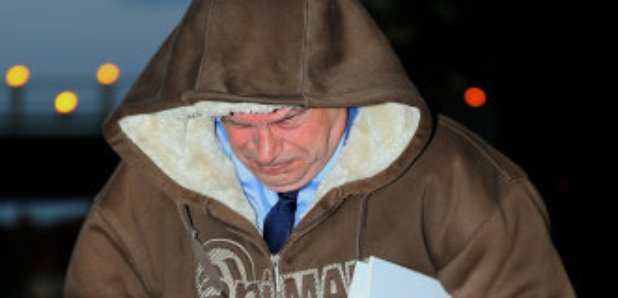 A self-proclaimed survivalist and "patriot'' who amassed an arsenal of weapons and explosive substances at his home has been jailed.
Roger Smith, 46, said he stockpiled the weapons at his home because of Isis and believed he was preparing for a war.
He was convicted of possessing gunpowder, other chemicals and a copy of a book containing details of how to make bombs and sentenced to four years at Nottingham Crown Court.
Jailing him, Judge Gregory Dickinson said: "You are misguided and foolish as you are sinister.''
Smith, of Summerwood Lane, Clifton, Nottingham, was detained in 2015 after a search of his house uncovered items suggesting the potential manufacture of explosives and several hundred canisters of camping gas.
A five-day trial was told an arsenal of crossbows and knives was found at the home of Smith, who claimed to be preparing to prevent an extremist attack similar to the 2013 murder of Fusilier Lee Rigby.
Opening the case against Smith at the start of the trial, prosecutor Michelle Heeley said: "Smith told the police officers on the way to the station that he had got things in his house to defend 'us' against the Muslims.''
Following his arrest, Smith told officers he held the chemicals for "legitimate purposes'' and that he used the gunpowder to get his nieces and nephews interested in science.
Referring to Smith's police interview, Ms Heeley said: "He said that Isis was a threat to the entire Western civilisation and that if there was another Lee Rigby-style attack, he would be the sort of person who would help to stop it.''
"He saw himself as a crusader against Muslims,'' she told the court on Thursday.
Mitigating, Orlando Pownall QC said there was no suggestion Smith was part of a radical group and described him as a "bit of a loner''.
He said: "Ignorance of the law is no defence - we invite the court to conclude this defendant had no appreciation of the seriousness of what he was doing.
"The defendant is a mild-mannered individual. There is no evidence this defendant was part of a radical group or had friends who were equally radical or that he wished to be a member of such a group.''
He said Smith's claim to officers that he would protect the police in case of an Isis-style attack was flawed - given the gunpowder he created would only produce smoke. Mr Pownall told the court: "How would he protect the police in those circumstances with gunpowder?''
Judge Dickinson said: "You said you had these things in your house to defend against the Muslims and you were ready.
"In your own obsessive and misguided way, you were preparing for a future that you believed was coming.
"You were in your own somewhat warped way preparing for a siege and for the possibility of a local war with Islamic terrorists.
Smith, wearing a checked jacket and green trousers, did not react as he was sentenced.