Prince William's First Visit To Derby
30 November 2016, 17:07 | Updated: 30 November 2016, 17:13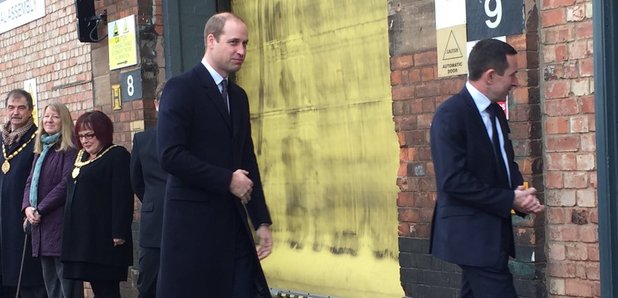 The Duke of Cambridge joked he would have a word with The Great British Bake Off judge Mary Berry after being impressed by a cake made by a beaten finalist during his visit to Rolls-Royce's aero engine factory.
William was presented with a cake modelled on one of the aerospace giant's Trent XWB engines by Bake Off star Andrew Smyth at the firm's plant in Derby.
William spent a couple of minutes chatting to Mr Smyth, who works for Rolls-Royce, before heaping praise on the ``incredible'' cake and telling the 25-year-old engineer: "I'm going to have words with Mary (Berry) - you should have won.''
The Duke, who informed Mr Smyth he had seen ``one or two'' Bake Off episodes, added: "I was wondering if this was actually a cake and it actually is.
"The problem is when you make something as good as this you don't want to eat it. I don't want to break that apart.''
Mr Smyth, a performance technologist with Rolls-Royce, spent around eight hours preparing the chocolate Madeira cake - filled with buttercream and morello cherry jam - at his home.
A "more accessible'' version of the cake - which boasted a rotating gingerbread fan to mirror the front of a Trent XWB engine - was also presented to William.
After meeting the duke, Mr Smyth admitted feeling more nervous than he was during this year's Bake Off final.
"I think I was a little bit starstruck when he came through the door,'' he said. "I missed where he said 'I'll have a word with Mary'. He's a bit late now but I appreciate the thought.''
Asked what time-frame he had been given to design a cake fit for a future king, Mr Smyth added: "I was asked to bake the cake a couple of weeks ago. I spent a lot of time thinking about what I wanted to do, whether I wanted to do a really elaborately-decorated cake.
"But then I thought I've got to come back to my roots - engineering and baking. That's what I did on the show.
"William was going to visit the XWB build line today so I thought what better opportunity than to try and make the cake version of what he's there to see.
"The rotating fan was the kind of cherry on top. I was really keen to make that work and so relieved that it came off on the day - and he seemed to like that as well - a bit of a showpiece.''
During his visit to Rolls-Royce, William also met with apprentices and other engineers, and was given a guided tour of the build line for the multi-million-dollar Trent XWB engine.
Earlier, the Duke, a qualified pilot, had swapped helicopter controls for a train driver's console during a visit to one of Britain's biggest carriage works.
William's stint at the joystick of a test train was "smooth, fast - and his braking was sharp'' as he put the locomotive through its paces during a tour of the Bombardier works in Derby.
He was meeting apprentices, staff and bosses at the factory during his first official visit to the city, and also inspected the London Crossrail assembly lines.
Christopher Brittan, test train driver, said: "He was good - he's a pilot isn't he - so I gave him the basics, and the traction brake controller, but he was good. Controlled.
"We went up to 30mph.''
Richard Hunter, Bombardier Transportation's UK managing director, said William showed "great interest'' in the works.
He added that a healthy order book, including the Crossrail project, meant the manufacturer - which already employs 1,650 people on site - would be "building up head-count significantly'' in the coming years.
The Duke has also been meeting staff and clients at Padley Development Centre, one of Derby's longest established charities, which caters for people with complex needs.
William is later set to attend the Tusk Conservation Awards at the Victoria and Albert Museum in London alongside Sir David Attenborough.
The 34-year-old, who is patron of the conservation charity Tusk, will meet the finalists as well as Tusk supporters and sponsors before presenting the Prince William Award for Conservation in Africa.
Sir David will present the Tusk Award for Conservation and the Tusk Wildlife Ranger Award.