Police Meet In Derby To Tackle Knife Crime Rise
8 March 2016, 17:22 | Updated: 30 March 2016, 13:50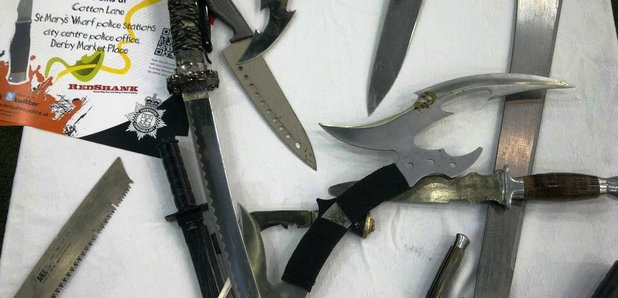 Police have been meeting in Derby this afternoon to try to come up with a plan to tackle a rise in knife crime in the city.
Last month 22-year-old Tom Webb was stabbed to death in St Peters Street and his Mum is one of those who've been at the meeting.
The councils, schools, probation services and parents are also being involved what's being called Project Zao.
Police have told Capital they don't know why the city has seen a rise in young people with knives over the last few months. But they hope by getting lots of the teams who work with young people together they can bring it back down.
Chief Inspector Richard Smith, who has responsibility for communities and partnerships for policing in Derby, said: "Our experience in dealing with incidents across D division and in particular the city, has shown that more young people are turning to carrying knives and other sharp instruments as a matter of routine.
"The intelligence in terms of the reasons why is varied, however we are determined to reverse this trend. The fact of the matter is that this practice is highly dangerous both to the individual and others. The law reflects this by issuing strong sentences to anyone carrying such items.
"We have seen a number of incidents in the last year where the carrying of knives has resulted in severe consequences including the death of a man only a few weeks ago."
Rachel Webb, the mother of Tom Webb who died as a result of a stab wound on St Peter's Street, Derby on Tuesday, January 19, said: "A few short weeks ago my son was the victim of a fatal stabbing in Derby city centre at 8.30pm on a Tuesday evening.
"His death has shaken my very core. Tom's death has had a deep effect on our whole community.
"Project Zao aims to prevent another life lost, another bereft mother's grief and a safer community for our children to live. I feel very fortunate to be afforded the opportunity to help support the project in whatever way I can."
'Worrying Trends'
Councillor Asaf Afzal, Cabinet Member for Cohesion & Integration at Derby City Council, said: "Whilst we do not have a major issue with knife crime in Derby, there are some worrying trends. We have recently experienced some high profile crimes that have involved knives, the most serious resulting in the tragic death of Tom Webb. Also we listen to what young people tell us, and they are saying that they think knife possession is on the increase.
"In Derby we have strong track record of making our city safe, working in partnership and importantly putting plans in place to prevent the situation from becoming worse.
"Project Zao is a partnership between the council, police, probation, schools, voluntary sector and Derby County aimed at tackling the problem of knife crime in the city. Including prevention, education, mentoring, disruption and enforcement and a weapons amnesty all designed to reduce the possession of knives and prevent serious violence."
'Young People Deserve Every Opportunity'
The Enthusiasm Trust is a local Derby charity that works with young people and helps them to fulfil their potential by diverting them from crime, raising aspirations and building self-esteem.
Joe Russo, the founder and Chief Executive of Enthusiasm, said: "The Enthusiasm Trust believes that the young people of Derby deserve every opportunity to make the most of their lives, whether that be a young person who is at risk and being drawn into a negative and damaging lifestyle, or whether that be young people going about their day-to-day lives.
"Our project will aim to help, support and encourage young people to make the right choices."