Derby Man Jailed For Preparing Terrorist Attack With Woman He Met Online
22 February 2018, 16:48 | Updated: 22 February 2018, 17:15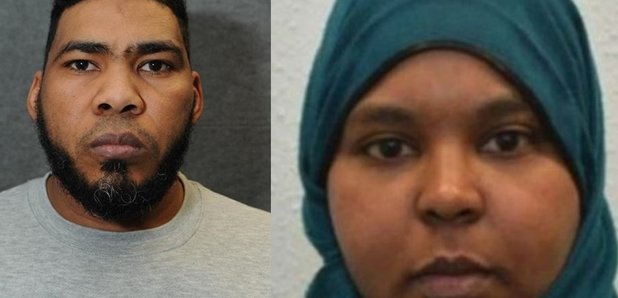 A lonely hearts couple have been jailed for plotting an IS-inspired bomb or ricin attack over the Christmas holidays.
Sudanese asylum seeker Munir Mohammed from Derby volunteered for a "lone wolf" UK mission in a Facebook chat with an IS commander.
He enlisted pharmacist Rowaida El-Hassan to help find ingredients for a bomb after seeking her out on dating website SingleMuslim.com.
At the time of his arrest in December 2016, Mohammed had two of the three components for TATP explosives as well as manuals on how to make bombs and ricin poison.
37-year-old Mohammed of Leopold Street, Derby, and mother-of-two, 33-year-old El-Hassan from north-west London, were found guilty of preparing terrorist acts between November 2015 and December 2016.
Judge Michael Topolski QC sentenced Mohammed to life with a minimum of 14 years.
El-Hassan was jailed at the Old Bailey for 12 years plus five years on extended licence.
The judge highlighted Mohammed's "vast store" of IS propaganda depicting the "abhorrent" acts of murder, including nearly 26,000 images on his phone.
El-Hassan never objected to being sent the material as her two children slept in her bedroom, and even asked for more, the judge said.
Even though Mohammed introduced extremism in their relationship, El-Hassan "embraced it and became more and more absorbed by it to the point she became an enthusiastic and encouraging partner", he said.
Judge Topolski told Mohammed: "You decided that yours would be a lone wolf attack. You decided the means of your attack would involve you making an IED.
"You had not decided whether that would be made with an ordinary bomb or whether you could do more damage and more terror by exploding a device containing ricin."
He "carefully and deliberately drew El-Hassan in to the point where her commitment was "consistent and sustained", the judge said.
DCI Paul Greenwood is from the North East's Counter Terrorism Policing unit - he spoke to Capital.