Nottingham Theatre Calls People Who Watched England Penalties During Show "Disrespectful"
5 July 2018, 17:04 | Updated: 5 July 2018, 17:13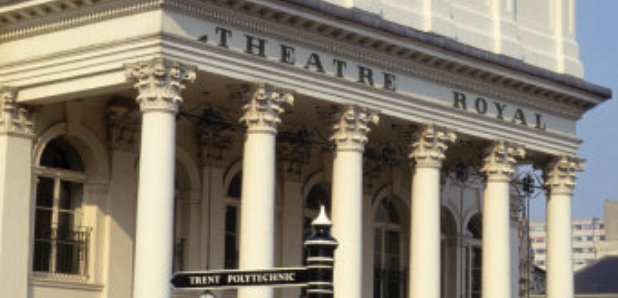 Two women spotted watching England's penalties at a theatre show in Nottingham have been called "disrespectful" by bosses there.
Cast members were horrified when the theatregoers at the front of the audience for Titanic The Musical at the Theatre Royal in Nottingham audibly celebrated each goal during the nail-biting conclusion to the game, while the production was going on.

Jonathan Saville, interim venue director of the Theatre Royal & Royal Concert Hall Nottingham, told the Press Association: "On Tuesday evening, our front of house team informed every member of the audience on entering the auditorium that they should turn off their mobile phone.
"Our duty manager was present in the stalls throughout Act 2 of the performance.

"The audience were extremely quiet, and she was not aware of any audible or visual disturbance until the company alerted her to it.

"It would seem that these two audience members seated on the front row, only a few feet away from the stage, perhaps had not realised that their actions could be both seen and heard.

"Even if audience members feel that they are being quiet or discreet in checking their phones during a performance, it is both disrespectful and distracting to the actors on stage and to the other people around them.

"Our staff are vigilant in stopping this kind of behaviour, where it is practical to do so without further distracting from the action on stage, but we do also rely on people using courtesy and respect to those around them when they come to see a live theatre performance."

Cast member Niall Sheehy wrote on Twitter at the time: "To the two women in the front row tonight who not only followed the penalty shootout on their phone, but also said 'yesss' on each goal scored, you are the most ignorant audience members I have ever had the misfortune to perform in front of.

"And when a cast member signalled 'put your phone away' during the bows and you smiled, gave a thumbs up and replied 'I know - we won!!', I think you may have let us all know you are the stupidest woman on the planet.

"Please avoid attending any future theatrical productions."

Another cast member, Kieran Brown, wrote: "Dumbfounded. 2 ladies, 1 older 1 middle aged, slap bang front row clearly watching football on phones during the most poignant moment of lifeboats scene, cheering & giggling like stupid schoolgirls.

"To say I'm raging is an understatement! They should be marched out in disgrace!"