Men Guilty Of Muder After Leicester Explosion
28 December 2018, 11:00 | Updated: 28 December 2018, 11:08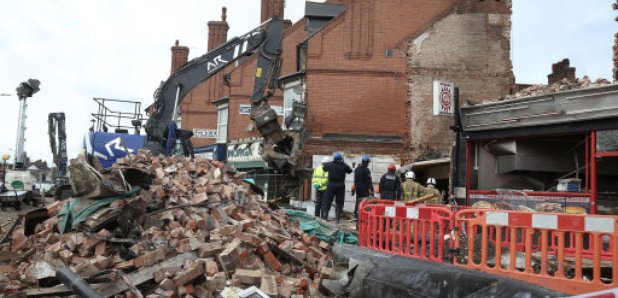 Aram Kurd, Arkan Ali and Hawkar Hassan have been convicted of murdering five people in a shop explosion.
All three men were also found guilty of conspiracy to commit insurance fraud
They lit 26 litres of petrol in the basement of a shop to benefit from a £330,000 pay-out were motivated purely by greed.
Arkan Ali, Hawkar Hassan and Aram Kurd intended to claim against an over-inflated insurance policy on the Polish supermarket on Hinckley Road in Leicester after the devastating explosion.
The investigation into the men led police to trawl through over 700 hours of CCTV footage, and examined more than 2,500 exhibits, 1,000 witness statements and 4,000 different lines of inquiry.
Leicestershire Police said shopkeeper Kurd, who gave an account to the media after the blast, "probably felt there was a need" to tell his story in a deceitful bid to cover his tracks.
Speaking of the explosion itself, Detective Chief Inspector Michelle Keen, who led the investigation, said: "The evidence we have identified is that this was a significant amount of petrol - significant such that it caused that level of devastation and five people lost their lives."
Describing the CCTV evidence, Ms Keen continued: "We know there were acts of planning - we don't know whether they knew about the cameras.
"Certainly some cameras were moved in an attempt to avoid detection but we will never truly know what was in their mind as they haven't told us."
Asked about Kurd's accounts to the media, Ms Keen said: "Clearly, at the outset, the devastation was such that it was unknown as to what the cause was.
"There were a number of possibilities - one of those was a criminal act, but in those early stages we really didn't know what caused it.
"As part of that a number of people were spoken to, and certainly at the scene he (Kurd) was spoken to as a witness and obviously, at that time, he also gave an account to the media as well."
Ms Keen added: "It was clearly deceitful and a bid to almost cover up what had actually gone on and what his knowledge and involvement was."
Addressing why Kurd chose to speak to the media after the explosion, Ms Keen said: "There's probably a curiosity as to where the investigation is going and what we know.
"Also, social media and the media is so much more high profile and available that he probably felt like there was a need to put some sort of account across in some way a portray their innocence at an early stage."
Speaking of the motive behind the killings, Ms Keen said: "The motive would seem to be purely financial greed and personal gain.
"The intention was to claim against an over-inflated insurance policy for business interruption and contents.
"There was significant investment into the shop's set-up and it is evident that it wasn't as profitable as expected. This led to the subsequent fire and explosion."
When asked about victim Viktorija Ijevleva's involvement in the insurance claim, Ms Keen continued: "Of course, Viktoria sadly lost her life as a result of this incident so we are unable to understand exactly her full knowledge of what was to come.
"And, the fact is, she is unable to be complicit in her own murder."